Introduction
Carbon Literacy Toolkits and Sector-Specific Courses have been developed to maximise the speed and ease with which which Carbon Literacy can be adopted.
Other than customisation by the user institution, using a certified CL Toolkit or Sectoral Course eliminates course development and accreditation time and costs.
Toolkit and Course development is supported by The Carbon Literacy Project, but as always, training materials are developed, contributed, curated, selected and reviewed by representatives of the relevant sector.
Toolkit materials are kept up to date either by Course authors or by Toolkit sectoral experts  working with The Carbon Literacy Project.
This approach maximises the opportunity for organisations use the latest and best sectoral materials.
As a result, 'reinvention of the wheel' is avoided, and the expertise and experience of many brought together, to deliver more effective training, and better climate change outcomes.
Co-ordination and piloting of the Universities and Colleges sectoral Courses has been funded by The Department for Business, Energy and Industrial Strategy (BEIS) via The Greater Manchester Combined Authority (GMCA), and has involved contribution and donation of materials and testing and piloting by a number of authors and universities.
Who can gain access to use Toolkits?
Sectoral Courses and Toolkits are designed for specific sectoral audiences, and content is matched to the needs of that sector. As such, materials are only released to organisations that correctly belong to that sector. This is not only because of the need to maintain the quality of Carbon Literacy by ensuring the appropriateness of the content, but because Toolkits are usually governed by Creative Commons licensing agreements and content is owned by contributors who have only given permission for its use, or commercially licensed it for use, in specific not-for-profit contexts. Training organisations or consultants wanting to adopt Course or Toolkit materials or adapt them for new sectors or audiences should in the first instance approach either the course authors directly, or The Carbon Literacy Project.
If you are an organisation that has not had contact with CLP before we will normally have a talk with you by phone or online to understand your plans and connect you up with other organisations and people that may be able to help you. We normally respond to course requests within one working day.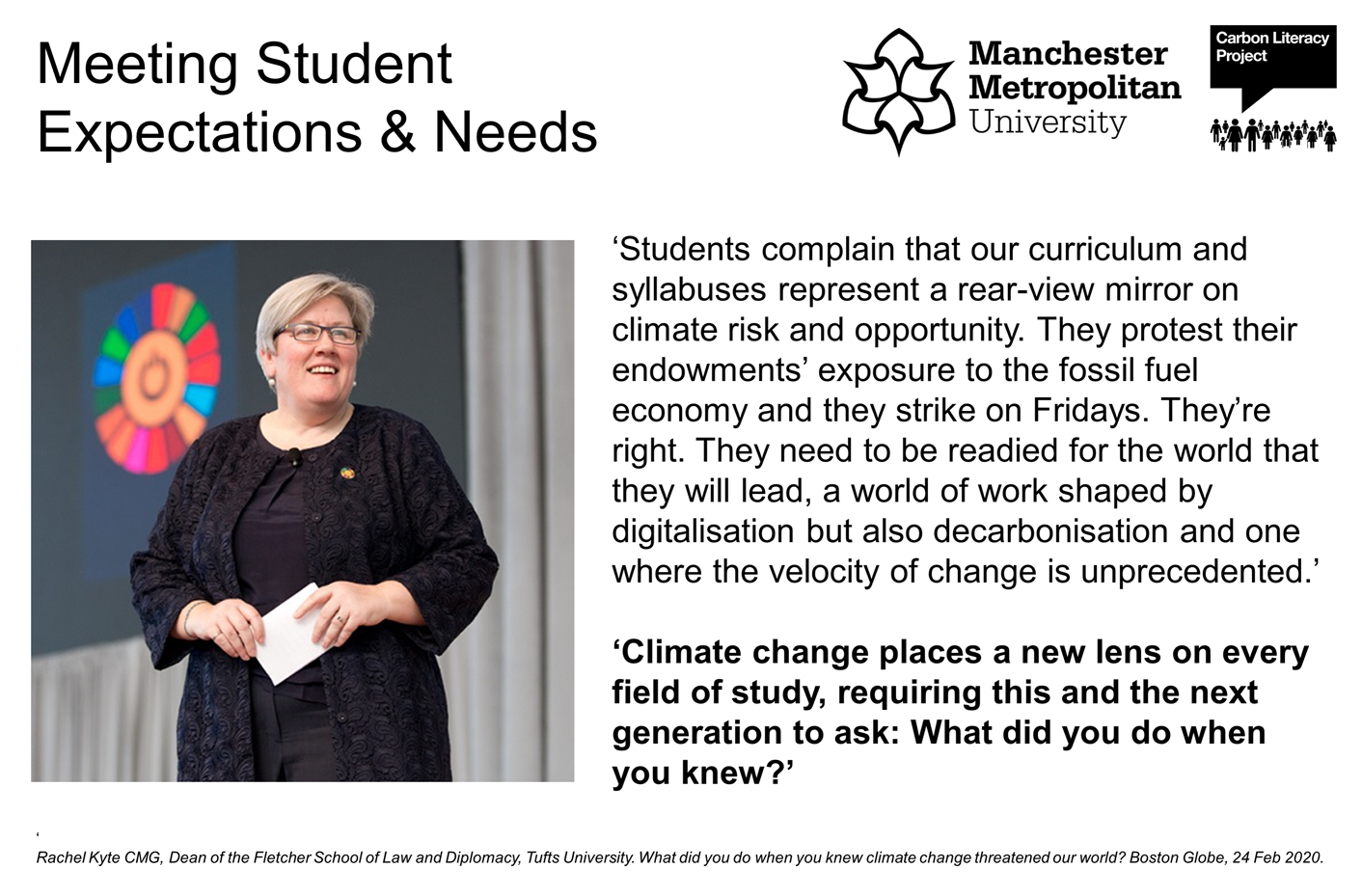 Are they really free?
The Carbon Literacy Universities and Colleges Courses and Toolkits and all their components are covered by  Creative Commons Licences and the formulations of materials are Copyright © the authors and/or The Carbon Literacy Trust 2020 respectively.
This toolkit and materials are designed and curated for, the purpose of certified Carbon Literacy training within UK Universities and Colleges and approved partner organisations. The contents are distributed free of charge and licenced (and in many cases sub-licenced) by many contributing organisations for that purpose only. The rights and copyrights of authors and contributing parties still apply.
In other words, the University and College Carbon Literacy Toolkits are free to use for the delivery of certified Carbon Literacy training within recognised UK Universities and Colleges and can be used by their appointed training partners to do this. The only external costs for usage are therefore those of certification for individuals, which is the standard £10 per participant for UK Universities and Colleges.
You may not use these materials to generate a new commercial product or sell delivery of these materials outside of UK Universities and Colleges or to deliver training not intended to deliver certified Carbon Literacy, unless permitted to do so by the copyright holders, see below.
You may be granted rights to use the materials for other purposes beyond the current licences, but if you wish to do so please contact the authors directly, or:
The Carbon Literacy Trust via education@carbonliteracy.com