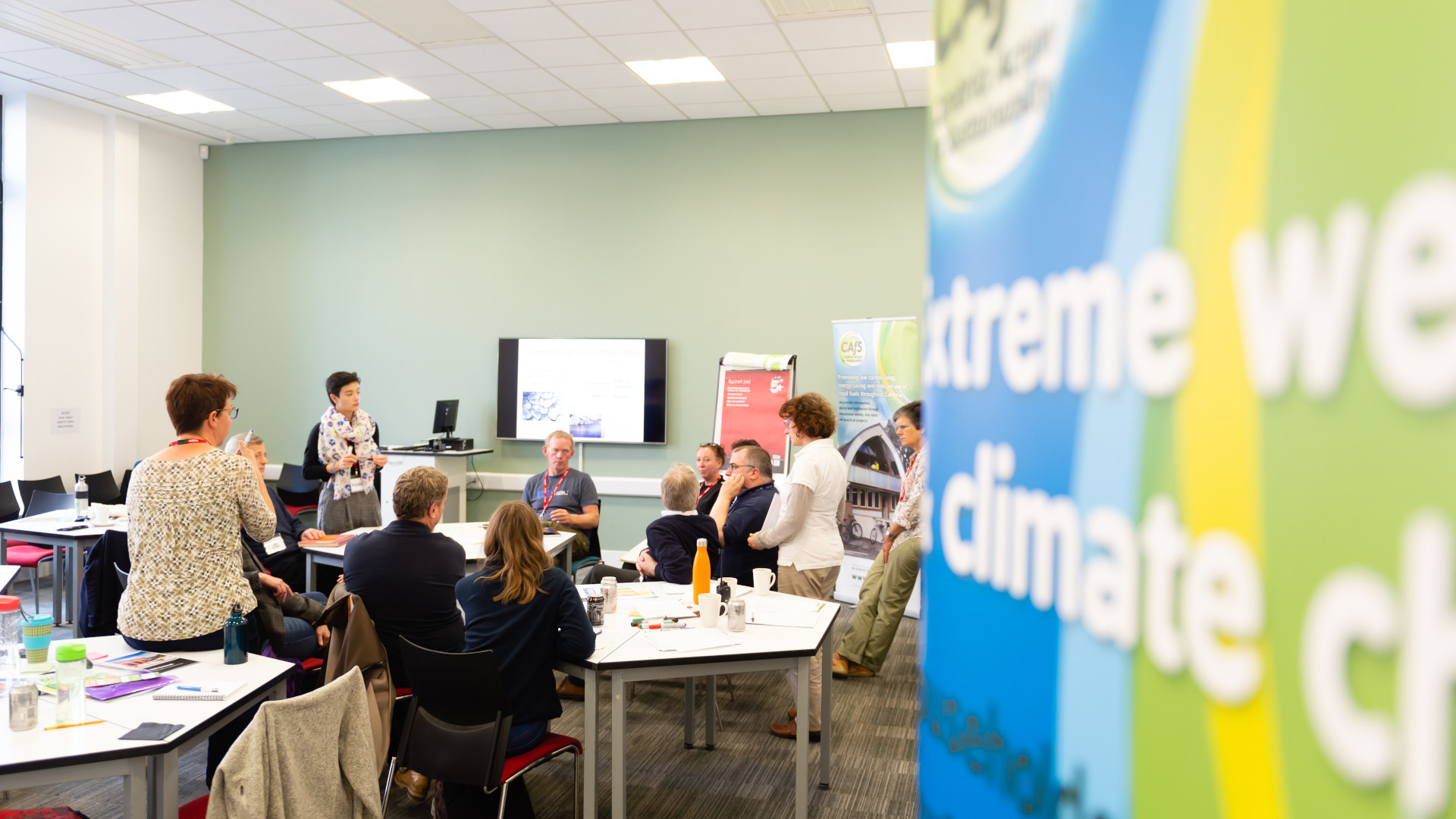 Throughout our 10th Anniversary year, we're sharing 10 stories for the 10 years of Carbon Literacy; one story for each year, shared once per month, in the 10 months leading up to the official anniversary date in October.
Story number nine finds us in 2020, when Carbon Literacy became key to plans to create a net zero carbon Cumbria by 2037.
Cumbria Action for Sustainability and The Zero Carbon Cumbria Partnership
The award-winning charity Cumbria Action for Sustainability (CAfS) has been promoting and facilitating low-carbon living and its benefits, in Cumbria, for almost 24 years. Their vision is a zero-carbon Cumbria which is socially, environmentally, and economically beneficial for all.
In 2020, CAfS, working with Cumbria County Council, established the Zero Carbon Cumbria (ZCC) Partnership, a new partnership between 80 organisations spanning the public, private and third sectors, working towards making Cumbria the first net zero carbon county in the UK, by 2037. This ambitious challenge aims to incorporate many aspects of life in Cumbria to bring down the county's greenhouse gas emissions to net zero.
Having already run their own public pilots, CAfS recognised Carbon Literacy training as a key tool in generating the necessary understanding, changes and actions needed to enable Cumbria to reach its 2037 net zero ambition.
Why Carbon Literacy for a Zero Carbon Cumbria?
CAfS is highly aware that education and behaviour change are essential components of a rapid transition to net zero. The ZCC Partnership aims to reduce emissions in a way that is led by, and benefits, communities. For this to happen, people and organisations need to understand the scale of the challenge and the available solutions. They need to be supported to move away from feelings of helplessness, find their self-agency, and feel more confident sharing and communicating the knowledge they gain.
The ZCC programme, funded by the National Lottery Climate Action Fund, includes a wide range of events and training and a huge amount of community engagement, including participatory democracy processes such as Citizens Juries. But CAfS felt that a well-structured, accredited, full-day course was also needed as part of that offer.
"We are trying to drive a measurable step change in knowledge and attitudes in the County to support the net-zero ambition, and we felt that Carbon Literacy was a great choice for what we were trying to achieve."
– Hazel Graham, Climate and Carbon Literacy Training Manager, Cumbria Action for Sustainability.
The ZCC Partnership also has a strong position on what net zero means and how fast it needs to happen. As well as the ambitious target and the community-led approach to getting there, they use 'consumption carbon accounting', including not just energy emissions, but also the food people eat and the stuff they buy. The Carbon Literacy training framework gave them the ability to clearly articulate the reasons behind that position, and encourage delegates to discuss and debate them.
"It is really transformational stuff and it cannot be done TO people, it has to be led by the people and organisations affected. Carbon Literacy gives us a great way to start that debate and discussion, bring knowledge levels up, and build a cascade of interest, motivation and action across the county."
– Hazel Graham, Climate and Carbon Literacy Training Manager, Cumbria Action for Sustainability.
CAfS' Climate and Carbon Literacy training
The development
CAfS first trialled Carbon Literacy training in September 2019. These sessions were led by certified Carbon Literacy Trainer Sarah McClelland of Great Places Housing Group and included materials from CAfS and Prof Mike Berners-Lee, CAfS' patron.
Following these sell-out pilots, CAfS realised that there was significant demand for the courses and that people had different aims for their learning. Some wanted to take that learning back into their lives, communities or organisations to drive specific change there. Others wanted to use the learning to build their confidence to communicate about climate action. So, CAfS applied for funding for two sub-projects:
Climate and Carbon Literacy training – professionally delivered as part of the ZCC Partnership and funded by the National Lottery Climate Action Fund.
Community Climate Champions – funded by the Emergence Foundation and the National Lottery Climate Action Fund.
CAfS Climate and Carbon Literacy training is delivered by a team of nine paid specialist climate trainers. As part of efforts to reach outside of the 'climate bubble', they run a mixed charging model for these courses where people pay as they can afford. This makes discussions and debates more varied as the financial circumstances of delegates are wide-ranging, and leads to very real conversations about low carbon solutions for those on a low income, as well as the infrastructure changes needed to enable them.
Distinct from this is a network of 30 (and growing) volunteer Community Climate Champions, who receive a free Carbon Literacy course from CAfS, a half-day train-the-trainer session from CAfS, and a full-day 'Zero Carbon Britain' course from CAT. CAfS then support them to use that knowledge to communicate with others and drive climate action in their own communities.
The roll-out
CAfS immediately saw the impact of their first Carbon Literacy pilots and realised that Carbon Literacy made a really meaningful addition to their climate training offer. CAfS aim to develop programmes that operate at the pace and scale required by the urgency of the climate science. So, they decided to go big with their Carbon Literacy goals. With an already strong network across the county, and huge community support for a large programme, they set an ambitious aim to train 3000 people over 5 years (2021-2025).
Since 2019, CAfS have run 83 climate training courses, of which 40 have been accredited Carbon Literacy courses, with the rest being shorter, introductory courses. These climate training courses have been attended by just over 1000 people, with 296 (and counting) becoming accredited as Carbon Literate following attendance on an accredited Carbon Literacy course!
This included a large programme of delivery to staff and Elected Members at Cumbria County Council in 2021; enabling the Council to go on to achieve Bronze Carbon Literate Organisation (CLO) accreditation. CAfS are now in the process of applying for their own Platinum-level CLO status.
The outcomes
As a result of Carbon Literacy training, CAfS have seen organisations add climate considerations to board meetings and committee papers, and embedded it throughout their marketing, they have also deeply embedded climate into their wider strategies, projects, and curriculums. Many organisations have gone on to set up green workplace champion networks to co-develop or drive forward their climate action plans.
Tim Gale, Zero Carbon Cumbria Partnership Manager at Cumbria County Council provided CAfS with the following feedback about their Carbon Literacy training programme:
"I just wanted to feedback that the Climate and Carbon Literacy Training IS working! The training has really worked and is getting some real traction."
One highly valued element of CAfS training offer is that their Training Manager will meet with any new client organisation to assess what they are trying to achieve through the training and advise them on an approach that would maximise impact.
"The training delivered by Cumbria Action for Sustainability was great as it was tailored to our organisation, helping us understand how to take responsibility within our roles to promote sustainability. We can't emphasize enough how good the training has been."
– Les Clark, Deputy Chief Executive, Eden District Council
CAfS prides itself on being more than a training provider. Indeed, Carbon Literacy is just one element of a very broad programme of activity across the ZCC Partnership. But it is seen as crucial to empowering and enabling people to decarbonise lives, communities and businesses by 2037 or sooner.
CAfS share their knowledge, skills and practical experience as widely as possible. Inspired by their story and want to take leaf out of their book? Or want to check out one of their courses? Get in touch with them at carbonliteracy@cafs.org.uk, or contact us.