Carbon Literacy Action Day
On the 7th of November 2022, as part of the UN COP27 Climate Negotiations,
we are holding the BIGGEST EVER climate action training event.
And YOU can be a part of it!
Register your interest here.
What is the Carbon Literacy Action Day?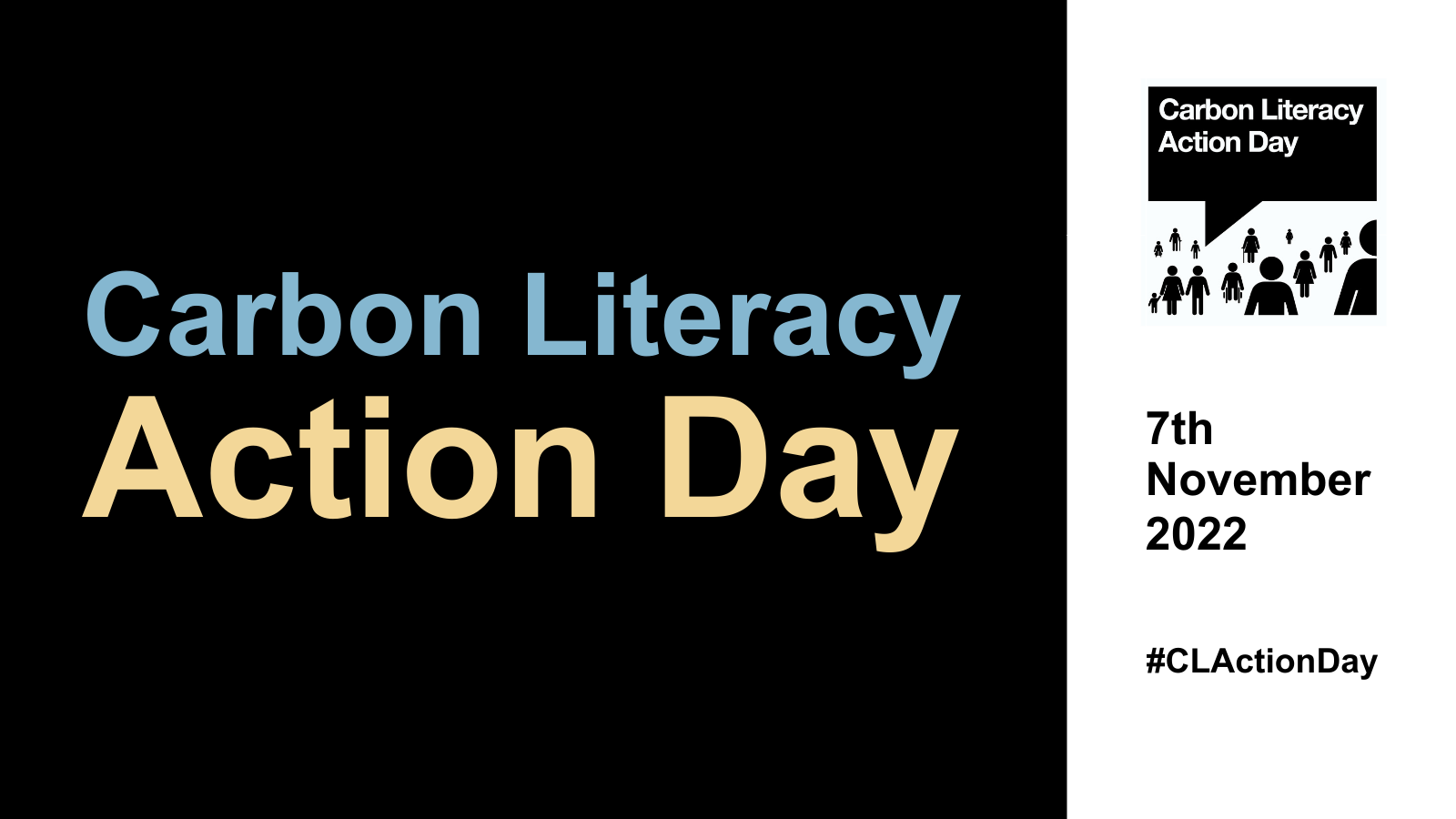 To coincide with Day 1 of the UN COP27 negotiations in Egypt this November, we are staging the second annual Carbon Literacy Action Day. The Action Day will catalyse action on climate change through Carbon Literacy training, getting everyone involved in delivering positive action, to address climate change wherever they are.
The Action Day is fully inclusive and open to all, and on November 7th we will witness thousands of people from all walks of life, sectors, genders, ages and nations all around the world, participate and complete their days' worth of Carbon Literacy training.
At 17:00 GMT we will commence a virtual tour by Zoom, giving participants and their groups the opportunity to share some of the best actions coming from their learners.  At the same time, we will tabulate the total number of learners that have participated in the Action Day, count their actions and estimate the predicted amount of CO2e saved as a consequence.
Who can get involved in the Action Day?
Just like Carbon Literacy itself, the Carbon Literacy Action Day is for anyone and everyone – no matter whether you are an individual, represent a community or belong to an organisation.
We already have a huge range of organisations from a breadth of sectors including Universities & Colleges, Local Authorities, Museums and Galleries, Healthcare, Automotive and many more, that will be participating in the Action Day.
Carbon Literacy includes you, no matter who you are or what you do.
Sign up here.
Why get involved in the Action Day?
Be a part of the largest low-carbon climate education day
Get involved in an exciting event while COP27 takes place
Develop a greater understanding of climate change and take immediate and effective action to tackle the climate crisis
Be a part of the breadth and diversity of Carbon Literacy, as we witness people from all backgrounds and countries around the world, come together and complete their days' worth of Carbon Literacy training
Use the Action Day as a catalyst to generate increased levels of involvement, activity and Carbon Literacy within your community, organisation or way of life,
Show your commitment to climate action
And last but certainly not least, if you aren't already, become certified as Carbon Literate and receive a unique Action Day certificate!
In order to tackle climate change at the rate at which the science demands, we need to continue educating people all across the globe at speed. That's why we're asking you to maximise the impact of your Carbon Literacy training this Action Day, so we can have the greatest impact possible in the race against climate change.
Maximising impact means going the extra mile for Carbon Literacy and for climate change, and running courses in a way you typically wouldn't. Think outside the box about how you can catalyse the impact of your Carbon Literacy training, and consider ways that your training can have a higher, longer-term impact.
So how can you maximise your impact?
Run multiple courses
Use extra facilitators to increase the capacity of your course – we can assist with this!
Open your course up to the wider sector, local community or a geographical area. By doing this, you can introduce Carbon Literacy to a wider audience (within the scope of your course accreditation), and even give people who might not otherwise be able, the opportunity to do Carbon Literacy
Train senior members of staff, including managers, directors, board members, or those with greater authority
Train parent, child or sister companies, for organisations that typically operate as a group
Sign up here.
Just like Carbon Literacy itself, there is no 'one size fits all' approach to taking part in the Action Day. You can get involved in any way that suits you, your organisation or your community.
To find out more information about how you can get involved this year, we've come up with the following five pathways to help you figure out what you can do to take part .
Please click on the pathway below which sounds most like you.
"The training empowered [staff] to engage more readily with our sustainable business model and made a big impact on the team. As a result of the training, this work has in itself become sustainable, with people taking ownership of their own responsibilities towards climate change, both in and out of work."
ITV Studios – Silver CLO
"The [Carbon Literacy] event was extremely informative as well as shocking in terms of the potential consequences for our city region and beyond. As a leader, it really made you think about your own role-modelling and energised me to really start to drive the agenda from a strategic perspective within my own organisation."
Ian Hopkins, Greater Manchester Police Chief Constable
The Carbon Literacy course has stirred passion within me and has added purpose to how I live. I believe if more people were educated on this subject, the more positive changes and community support we will see
Nikita Star, Student at Manchester Met University
"We were looking for a training course that would ensure all staff received the same level of environmental understanding, for a reasonable cost. Carbon Literacy fit these criteria perfectly".
Great Places Housing – Platinum CLO
"Some of the most important training I've ever done... I thought I knew about climate change, carbon reduction, and sustainability, I thought we were doing our bit, and then I went on a Carbon Literacy course. One day out of a busy diary, but boy did it make a massive difference. I was wrong on so many things that I thought I knew about."
Alice Webb, Director of BBC North
By maximising your impact for the Action Day this year, you could be in the running to receive a brand-new award, unique to the Carbon Literacy Action Day – the CLAD Catalyst!
The CLAD Catalyst is a new initiative where we recognise and celebrate those who go the extra mile for Carbon Literacy, and therefore for climate change. Three organisations and/or trainers, who display the best examples of catalytic Carbon Literacy, will receive a badge of special recognition for their dedication to tackling climate change.
Will you be one of our first CLAD Catalysts?
Sign up here. 
Contact Us
For all enquiries about the Carbon Literacy Action Day, please contact CLAD@carbonliteracy.com
Meet our Action Day Coordinator
Our Action Day Coordinator, Catherine McGinn, oversees the running of the Carbon Literacy Action Day for COP27.
If you have any enquiries or would like to get in touch about the Action Day, then please contact Catherine directly at catherine.mcginn@carbonliteracy.com or email CLAD@carbonliteracy.com