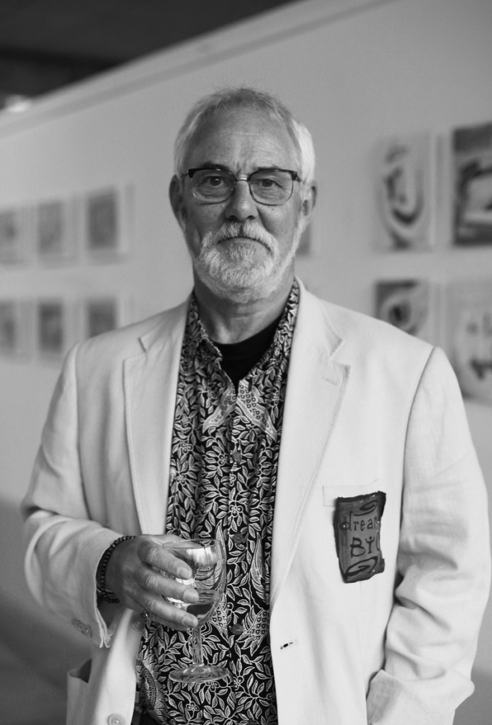 (Photo credit: Lucy Ridges)
"The Carbon Literacy Project is totally different to the climate plans of cities around the world, and for that reason it's exciting and unique."
Richard Sharland, environmentalist and artist, recently held an exhibition, 'What The Light Was Like', which raised a fantastic £2,000 for The Carbon Literacy Trust to launch it's new bursary scheme. The exhibition took place in a vast, vacant space in Piccadilly Place and I stopped by to speak to Richard about art, nature, and why he chose to donate the money to the Trust. I started off by asking what inspired him to start painting.
How it began…
Richard told me that he'd first started painting at school after trying to find an indoors activity to sign up to. "I went to the art room and there was an extremely elderly man who turned to be the art teacher. He was sat at a desk and he was painting, he was talking to the other boys around him, and he was smoking, and he was doing all these things at the same time. And these little paintings appeared and they were magical so I was just entranced and I signed up. And it turned out he was an artist and he'd been a student of Miro's when he was very young and he was a very inspiring man. Also, I hadn't realised that my mother had been a painter too."
I wondered whether Richard thought he would have continued painting without such an influential figure early in life. He told me that a study he had carried out as a school governor had concluded that the most important thing about school is the people around you that inspire you.
Richard's first art teacher?
He went on to talk of his first art teacher, "It's difficult to say what would happen. I studied with him for two years and then he retired, and the new art teacher was very interesting but I don't think he would have inspired me to paint. I learnt a lot of techniques from the new art teacher but William (the first art teacher) taught by showing you and then encouraging you to do it. He taught art appreciation as well which was very interesting because he taught it in an eccentric way.."
Art vs. the environment…
Richard has also had a long career in the environmental sector, recently retiring from his role of Head of Environmental Strategy at Manchester City Council. I asked him if this and his art worked together. He said that, "For a long time they didn't work together at all. I did my work and my work is a passion, but painting and art was another passion altogether, and it was like that for quite a long time but not a conflict or anything. About twenty years ago I started to realise that, because of the way I was painting, which was quite free at the time, I was importing things from work into my paintings. Also, I did quite a lot of installations where I would just make things in the landscape, if I was out for a walk I would stop somewhere and just make a little installation with stone or pieces of wood."
The themes of his work
As well as discussing whether his work influenced his art, Richard told me that he'd always made art, whether as a full time artist or during his spare time. I asked if he'd always been drawn to the same themes throughout this time. "No," he said, "William was a landscape painter. He did some abstract work but most of it was very expressionistic landscape work. That's been the main theme of my work but at different times I've become interested in other things. Some of these paintings are an attempt to depict things that are happening with music or poetry and I'm still interested in what the landscape looks like but I've become more interested in what I feel when I'm looking at a particular landscape at a particular moment. That's a combination of 'what the light is like' at that moment externally, but also what's happening for you, for me internally. What you do as a painter, just as you do if you're a musician or writer, is accumulate a vocabulary and, partly because I haven't been painting all the time, I develop a slightly more diverse vocabulary. This is why some people have looked around the show and said it's like three painters because you've got different styles. When I was making a living as a painter and I was painting watercolour landscapes, I didn't do anything else, which I did find slightly constricting." Richard said that giving that up meant he, "could then paint what I wanted to rather than painting what people wanted me to paint and it's not always the same".
"Buy it, take it home, and live with it for five years, and you'll find a whole lot of things I don't even know are there."
The messages…
We discussed these tensions between what Richard wanted to paint and what people wanted to buy. "One of the things I've learned," he said, "is that the majority of people are more comfortable responding to something that they can recognise." He told me that painters paint abstract paintings in order to, "get to a place where people are looking at a painting without any preconceptions," for instance, without trying to recognise the scenery. "The work that people want to buy and the work that people feel comfortable with is not exclusively but mostly more representational than not," said Richard, and he told me about somebody who wanted to buy a painting but wanted to know what it was first. "Buy it, take it home, and live with it for five years, and you'll find a whole lot of things I don't even know are there."
"…by exhibiting art to people who may not usually go to art shows, art can reach a new audience."
The future…
We talked about Richard's plans to open a gallery in Cornwall, something he has wanted to do for a very long time after exhibiting in a remote gallery in Cumbria. His aim is to have a studio space alongside a gallery space, and to exhibit the work of friends and colleagues and to promote artists. He hopes for a gallery space that isn't influenced by grants and that has a lower rate of commission in order for him to support artists and to follow his own path.
Richard said that exhibiting and selling his work as part of a collaboration with The Carbon Literacy Trust offers many benefits. For him, it means he doesn't have to pay any commission to a gallery, and that instead he can give money to The Carbon Literacy Trust. And by exhibiting art to people who may not usually go to art shows, art can reach a new audience. Richard chose The Carbon Literacy Trust as he chaired the meeting when the idea was initially conceived. For Richard, The Carbon Literacy Project is totally different to the climate plans of cities around the world, and for that reason it's exciting and unique. He said of raising money for The Carbon Literacy Trust, "Wouldn't it be great if I became a really well known painter and my paintings sold for ten times, one hundred times what they're selling. Then, for the same amount of effort, I could raise much more money. I don't think that's going to happen but it's a nice idea!"