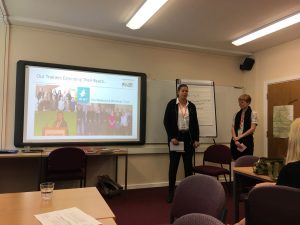 On June 21st as part of a team of Carbon Literacy Ambassadors from Manchester Metropolitan University (MMU), I attended The Environmental Association for Universities and Colleges (EAUC) Annual Conference at Keele University's flourishing, green campus. Here we ran a new workshop titled "International Student Air Travel Fuels Carbon Literacy Living Lab".
Below is the description of the workshop:
The importance of internationalisation to universities' global reputation and financial sustainability is growing. However, increased international student recruitment has significant carbon consequences due to increased air travel. This session explores Manchester Met's novel institutional response to this challenge. Come along and find out about our pioneering partnership approach, including the development of an innovative Environmental Educational Fund that supports the delivery of an ambitious 'Carbon Literacy for Students' cascade training model. You will also hear directly from our student Carbon Literacy trainers, engage in a Carbon Literacy taster session, and have the opportunity to ask us plenty of questions.
The Environmental Education Fund at Manchester Metropolitan University pays for:
–  Students to undergo Carbon Literacy Training and gain Carbon Literate certificates
–  Carbon Literate students to undergo the Train the Trainer programme required in order for them to deliver Carbon Literacy Training
–  Wages for students trainers to deliver Carbon Literacy Training to other students
–  Carbon Literacy Trainer certificates to all those who undergo the Train the Trainer programme and deliver Carbon Literacy Training sessions alongside their studies
This has multiplied the university's Carbon Literacy training capacity by an estimated three to four times, compared to what would be possible without the student trainers. Ultimately, this improves student employment prospects and reduces carbon emissions through ensuring that an increasing number of students leave the institution with the skills and knowledge required to lead lower carbon lifestyles and to influence friends, family and colleagues to make low carbon decisions.
It was mine and Ash's first time presenting at a conference, but our nerves were eased by knowing that The Carbon Literacy Project's Train the Trainer programme had equipped us with all of the necessary public speaking skills required for the task. Our role as student trainers was predominantly to showcase how Carbon Literacy had enhanced our university experience, with both of us having gained employment within our sector thanks to the skills and self-confidence acquired through becoming a CLT alongside our studies.
Intrigued representatives from an estimated ten to fifteen different further and higher education institutions attended the workshop and followed with lots of questions about both our Environmental Education Fund and Carbon Literacy.
The conference was a fulfilling way to conclude my unexpected and unfathomably fruitful journey as a student Carbon Literacy Trainer, although my involvement with The CLP is continuing in new and exciting ways!
The workshop was created and delivered by:
·         Rachel Dunk – Principal Lecturer
·         Jane Mörk – Senior Research Assistant
·         Helena Tinker – Head of Environmental Management
·         Valeria Vargas – Education for Sustainable Development Coordinator
·         Ash Farrah – Student Carbon Literacy Trainer and Recycling Canvasser (Manchester City Council)
·         Chloe Andrews – Student Carbon Literacy Trainer and Environmental Project Assistant