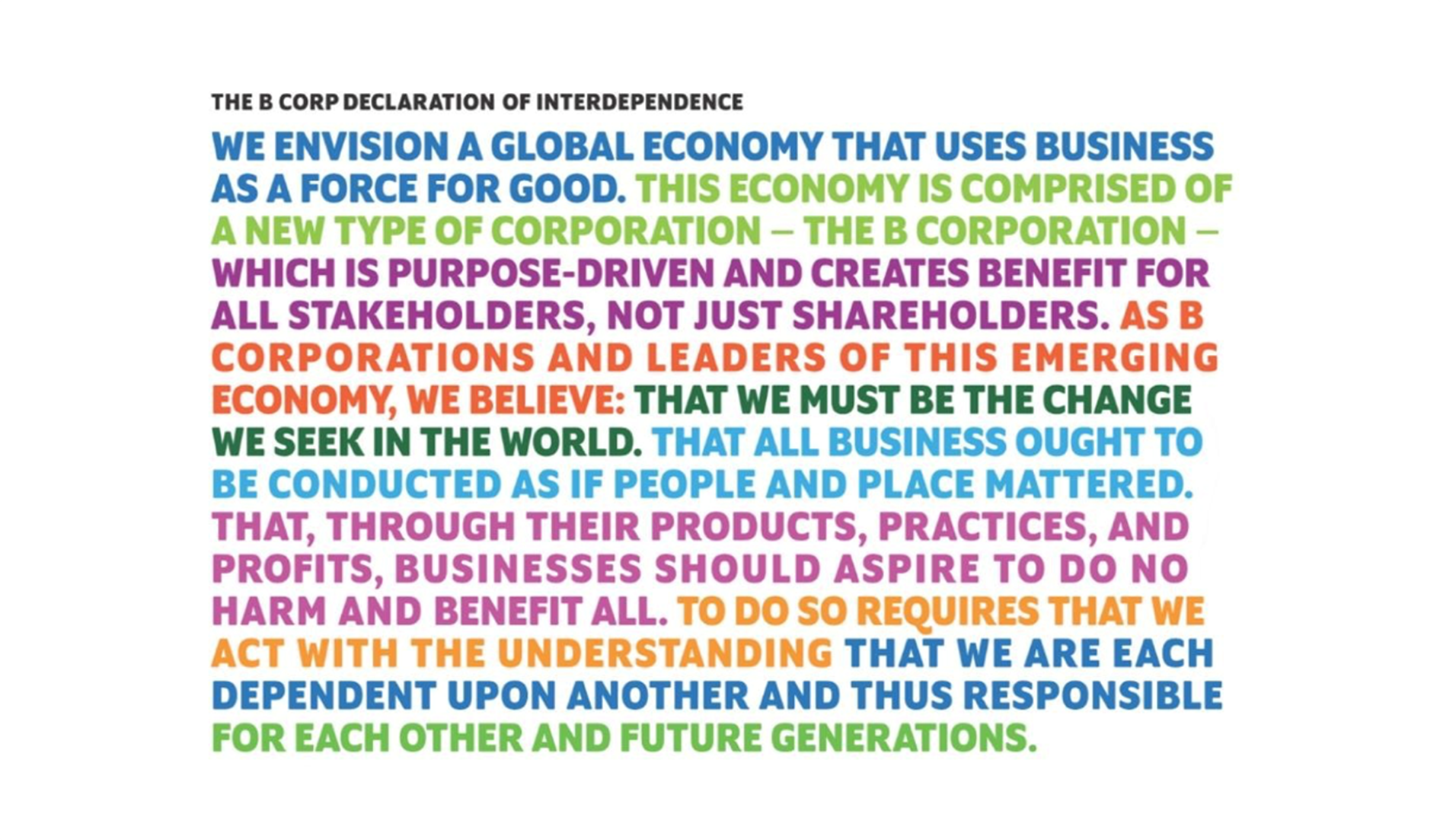 As B Corp month comes to an end, we reflect on what B Corps are and how they, alongside Carbon Literacy, can help us achieve our climate goals.
Sometimes we question whether business is inherently good or bad, and whether it can help or harm our global mission to reverse climate change. Can the structure of B Corps go some way to proving business can be a force for positive change? B Corps attempt to care for profit, people and planet.
So what is a B Corp?
B Corporations have made a written commitment to upholding the highest standards regarding workers, supply chain, and environmental awareness. They are currently represented in 74 different nations, and the UK branch celebrated its 5th birthday at the end of last year, having achieved more than 400 members across the UK. There are now more than 4000 members worldwide. To gain accreditation, a business needs an integrated sustainability policy that evidences core values and ethical behaviour as fundamental to the organisation. In fact, B Lab UK expects all UK B Corps to commit to net-zero carbon emissions by 2030. B Corp certification is particularly topical, as more and more graduates and job seekers want their work to align with their own personal values, and increasingly seek to work for organisations that can clearly evidence that they are a force for good.
B Corp status is not easily earned. Normally accreditation takes between 4 and 6 months for most organisations and requires a score of at least 80 (out of 200) against 5 key areas of impact: Governance, Community, Workers, Environment and Customers.
B Corp has been very proud of its community's behaviour during the pandemic. Within the B Corps community, members positively support each other, sharing each other's journeys and good work and there is often a personal feel. According to PwC, only 33% of B Corps had to implement the furlough scheme, compared to a national average of 66% of companies. The pandemic actually drove further interest in becoming B Corps, with more companies engaging with the Business Impact Assessment Tool: daily active users have increased by 150%. B Corps look set to last, with a fundamentally sustainable business model at their heart.
As consumer behaviour changes, many of us are becoming more conscious of where we put our money, and want to invest it positively in a better future. B Corp status therefore goes hand in hand with becoming organisationally Carbon Literate – and vice versa. Knowledge and awareness of how to have a positive impact in one sphere lends itself easily to positive action in another. Something else that characterises these corporations is transparency in their communication. From inception through to product creation, they are honest about the problems and challenges they have faced and how they have overcome them.
For more information on B Corps, have a look at Tony's interactive page explaining what it means to them to be a B Corp. Or head over to Propercorn, who were the first food sector B Corp certified business to take part in Carbon Literacy training.
Perhaps have a look through the list of B Corps and see if you can make a switch to supporting these brands.
Have a nibble on some Divine Chocolate this Easter whilst reading through their sourcing policy, knowing that the business is co-owned by the farmers growing the cocoa you are eating. They also perform above average on measures of the number of women in management positions. Perhaps have a look at B Corps belonging to your sector, and see if you can take any inspiration from them in your own business and personal life. Waitrose has a list of all their B Corp products on their website for you to look at. Alternatively, if you are based close to Manchester, you could even (when such things are allowed) head over to Old Bank Noma, which has a dedicated B Corp 'hub', home to a number of brands that are Certified B Corps or B Corp Pending, and often hosts talks.
Keep an eye out for our next blog in this series focusing on B Corps. We will be talking with Beth Moore, Sustainability Representative of Rowlinson Knitwear, based in Stockport, already a certified B Corp, and now working towards its CLO (Carbon Literate Organisation) status. We will be discussing the positive relationship between B Corps and Carbon Literacy, and how both accreditations are at their strongest working hand in hand.