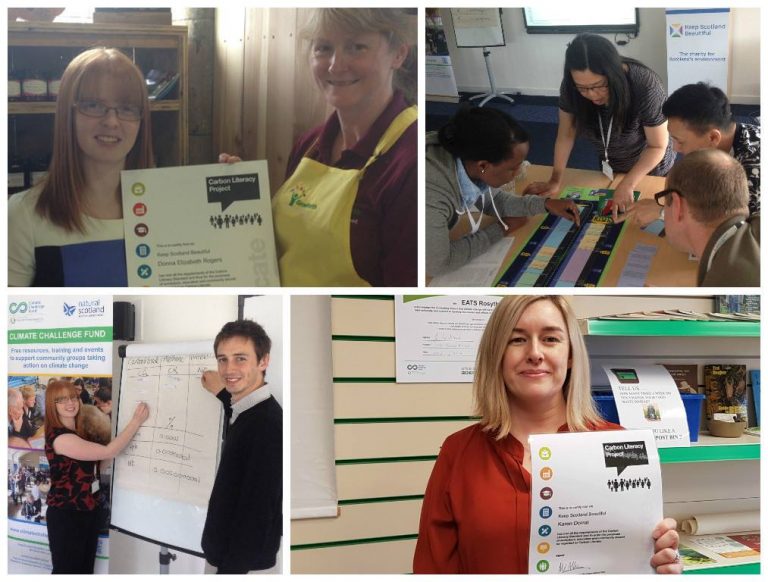 We are delighted to announce that Keep Scotland Beautiful, the Stirling-based organisation that oversees the Scottish Government's Climate Challenge Fund (CCF), has made Carbon Literacy a key plank in their process to support applicants who wish to apply for funds.
Russel Gill, CCF Capacity Building Officer at Keep Scotland Beautiful, explains that "through the CCF we have been supporting community-led climate action since 2008, and an important part of this has been to help people make the connections between the positive local projects they are involved in and action on climate change.  We wanted to make sure that those leading community projects have the confidence to talk about climate change, and have a good understanding of the ways that everyday choices can have a positive impact on carbon emissions."
"Carbon Literacy gives people the knowledge to speak with confidence about climate change to their peers, friends and neighbours, which is so important in shifting attitudes and raising awareness.  It also allows participants to develop a broad, instinctive understanding of where carbon emissions come from, and know what steps they and others can take to reduce them. We have delivered training with communities from inner-city Glasgow to the Western Isles and the strength of  the Carbon Literacy approach is that it allows participants to identify the challenges and opportunities for low carbon living that are most appropriate for where they live."
Keep Scotland Beautiful have also provided an impressive collection of resources and materials to support organisations seeking to become Carbon Literate. These include: course references, activities, games, examples of low-carbon behaviour, as well as, a range of other useful resources. They have already supported over 150 learners to become Carbon Literate, and they are determined to continue to make progress across Scotland, facilitating the expansion of Carbon Literacy and a "low carbon culture". Keep Scotland Beautiful are also working to build Carbon Literacy across their own organisation, and have recently applied for recognition as a Carbon Literate Organisation.
Keep Scotland Beautiful provides Carbon Literacy training and supporting resources as part of their management of the delivery of CCF. Provided by the Scottish Government, the CCF provides grants and support for community-led organisations tackling climate change by running projects that reduce local carbon emissions.