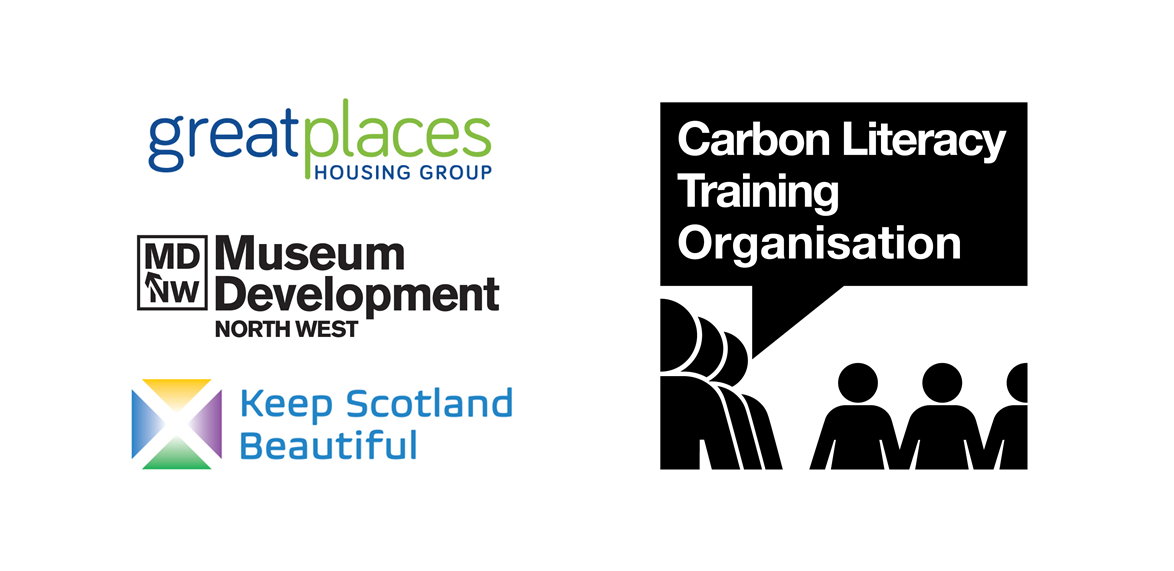 We're excited to announce that we now have three organisation with CLTO (Carbon Literacy Training Organisation) status – Keep Scotland Beautiful, Great Places Housing, and Museums Development North West. These organisations are leaders in their respective fields from the large volumes of people that they have delivered CL training to, to the courses that they have designed, all with the ambition of promoting and achieving a low carbon culture.
What is a CLTO?
The Carbon Literacy Training Organisation (CLTO) is the accreditation that identifies an organisation as having a depth of experience and expertise in designing and delivering Carbon Literacy training to others. It is primarily aimed at professional training organisations and consultancies that design and deliver Carbon Literacy training solutions at scale to many individuals and multiple organisations. It evidences expertise, quality of delivery and a strong track record, and identifies organisations holding it as the first choice when support and consultancy for Carbon Literacy delivery is required.
How do you become a CLTO?
There are various criteria which an organisation must demonstrate in order to become a CLTO, these include:
– Having CL certified team-members
– CLO status
– Carbon Literacy Advocacy
– Maintaining key members of staff
– Undertaking an observation by The Project
– Having specific sectoral expertise
Who are the current CLTOs?
Keep Scotland Beautiful – Keep Scotland Beautiful supports community-led organisations to gain a thorough understanding of the carbon impacts of their activities, and be able to make informed choices about the lower carbon options available to them. Keep Scotland Beautiful have provided an impressive collection of resources and materials to support organisations seeking to become Carbon Literate. These include course references, activities, games, examples of low-carbon behaviour, as well as, a range of other useful resources. They have already supported over 150 learners to become Carbon Literate, and they are determined to continue to make progress across Scotland, facilitating the expansion of Carbon Literacy and a "low carbon culture".
"Being recognised as a CLTO helps us demonstrate that we are the 'go to' people for anyone who is interested in bringing Carbon Literacy into their organisation.  Working with us, you can be confident you will have experienced and competent support at all stages of your Carbon Literacy journey."
Museums Development North West – MDNW is a programme of support for museums across the North West, promoting excellence, innovation, partnerships and organisational sustainability with the aim of "helping museums to become resilient in challenging times." In 2016 Manchester Museum became the world's first Carbon Literate museum. It delivered Carbon Literacy training to its entire staff at the same time as it ran its "Climate Control" season involving direct conversations between the museum and its visitors around climate change. In 2016 it supported Manchester Museum to train its staff to become Carbon Literate. It has since run Carbon Literacy training to North West museums and has ambitions to expand this further.
Great Places – Great Places Housing Group is leading the way across Manchester with its Carbon Literacy training. Having achieved CLO gold status, they have gone on to deliver training to other housing organisations as well as businesses in other sectors, regularly delivering CL training to organisations who are interested in rolling out Carbon Literacy to their own staff. Great Places have ensured that the training is of the highest standard and now have two Carbon Literacy Consultants within their team.  
"Having the CLTO accreditation certifies the quality of our courses and the experience of our trainers, enabling other organisations can book our training with confidence. This credibility means we can fulfil our Carbon Literacy objective to influence both from the bottom up, and the top down, enabling our leaders to make the bold decisions necessary with the informed support of the people they represent."