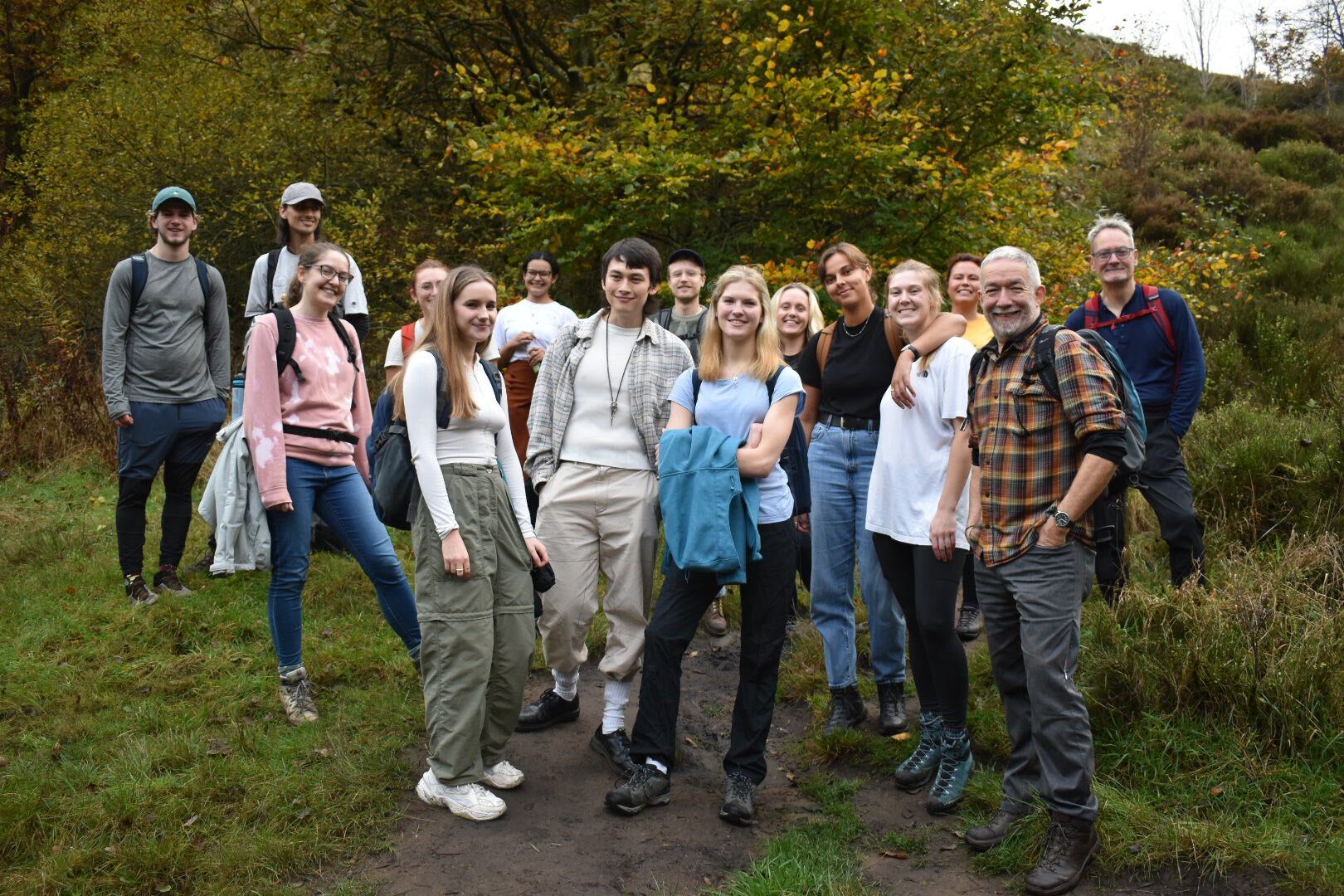 As we celebrate our 10th Anniversary this October, it's a very busy, yet exciting time for the team here at The Carbon Literacy Project! Looking back on the previous 10 years, we have grown exponentially in a multitude of ways, and are as driven as ever to continue spreading Carbon Literacy across the globe. At the beginning of this year, we launched the 10 for 10 Accelerator fundraiser in part to celebrate our 10th year, though primarily to accelerate action on climate change. Whilst our work is no mystery, and our community are kept well informed about our goings on through our blogs, newsletter and social media, have you ever wondered what our team does on a day-to-day basis, and how your donations are spent?
Here is a snapshot of what some of our team got up to on Thursday 27th October, before many of us took off for the afternoon and headed to the countryside to celebrate and reflect on 10 years of success. Included in this are a number of team members who were unable to join us for our afternoon out in nature, as, although Carbon Literacy is a Manchester-based project, the flexible nature of our work means that it's possible for our team to work remotely, around the UK and across the globe.
Leadership Team
Dave Coleman, Co-Founder & Managing Director, Great Britain
Dave was preparing for a presentation in London in 2 weeks to senior leaders in the UK automotive sector. Hosted by Autotrader, the event is to help automotive companies individually and to collaborate to accelerate their sustainability, and use Carbon Literacy to help accelerate their use of other tools. Additionally, Dave was doing some of the practical preparation for our 10th birthday event on November 1st.
Emma Richards, Head of Project Development, Great Britain
Emma was finalising the new Tiered Corporate Partnership Scheme. The scheme enables organisations to donate to The Carbon Literacy Trust in a more structured and mutually beneficial way than has been previously available. This is a part of a much larger programme of work looking to formalise and improve our processes and structures, to support our exponential growth, as we head into the next 10 years of Carbon Literacy.
Helen Filby, Head of Operations, Australia
At the moment, Helen is lucky enough to be based in Adelaide, as she is working from Australia for the next few months. Helen is doing a 'slow travel' around the country, mostly via train or bus, and working remotely during that time. With this in mind, her day started at around 4pm (ACDT) with a couple of external meetings surrounding course development and progression. Another focused on our Equity, Diversity & Inclusion work, which we've been progressing this year, and getting some expert advice to understand how we can do this, and how to best involve our team in this learning experience. Helen has also been working on our Salesforce system development, to help us improve the way we manage our contacts as we continue to grow as a Project.
Natalia Phipps, Head of Sectoral Development, Great Britain
Natalia was pulling together a budget proposal to fund a new Sector Toolkit (under wraps for now!) She had a catchup meeting with training providers Speak Carbon, hearing all about their upcoming training plans between now and the end of the year.
Sector Toolkit Team
Louise Harling, Healthcare & Bluelight Coordinator, Indonesia
Following a morning surf and a hearty lunch, Louise started work around 1pm in her time zone, preparing for the day and ready to greet her placement student for a 9am (UK) meeting. To follow, Louise had an intro call with a medical supplier organisation who is interested in rolling out Carbon Literacy, which is just one of the ways our healthcare work is expanding. Louise then spent the remainder of her day working on the development of our exciting new Healthcare Toolkit pathway, which will introduce options to complete training in a more asynchronous format, allowing greater accessibility to overcome some of the time-related barriers within the healthcare sector.
Ned Gatenby, Social Housing Coordinator, Great Britain
Ned was working on a series of focus groups with social renters and social landlords, which are shaping the development of a new Carbon Literacy pathway for tenants. He also spent his day researching effective communication and the potential for community engagement in climate solutions.
Jack Rhodes-Worden, Museums Coordinator, Great Britain
Jack was writing a blog on the House of Lords' recent 'In Our Hands' paper and how it relates to Carbon Literacy. He is also working with colleagues at Museum Development North West on a pre-recorded video for the Museums Toolkit, and is prepping for a museum sharing and networking event that he's running in a few weeks time.
Sarah Davies, Education Coordinator, Great Britain
Having joined the Carbon Literacy team in August, Sarah has been working with both Local Authorities and Universities and Colleges. Sarah has been settling into her job well, learning everything Carbon Literacy, getting to know her lovely, helpful colleagues, and is enjoying being part of a team and organisation with shared values and working on solutions to the climate crisis. Sarah has just completed an MSc in Education for Sustainability at London South Bank University, and on Thursday, took a train to London, wearing a 2nd hand sparkly dress from Oxfam and a pair of vegan boots to attend a wonderful graduation ceremony.
Ruth James, Automotive Coordinator, Montenegro
Ruth first met with a trainer delivering Carbon Literacy at Copart to discuss pledges and what makes a good action pledge. She then had a meeting with a UK-based leasing company who are interested in delivering training using the Automotive Toolkit. After this, Ruth responded to some emails and did some planning for CLAD.
Caelan Knight, Local Authorities Coordinator, Great Britain
Alongside writing his Masters dissertation, Caelan has been thinking about how to manage and track data on Carbon Literacy within Local Authorities. He hopes that with more accurate data, we can start to build reports and analyse the impact Carbon Literacy is having on local government.
Will Gibb, Civil Service Coordinator, Great Britain
Will had an introductory meeting with a government department that wanted to learn more about Carbon Literacy. Will has also been working on the development of our new Sports Kit alongside Jack and partners from the Sport Sector.
Anna Romachney, Project Officer, Great Britain
Anna has recently been working more deeply in the Education sector after the Sector Lead having recently left. Anna spends her time building more and stronger relationships with organisations we're engaged with, as well as working with colleague, Sarah, up who has recently joined the Education sector.
Communications Team
Lucia Simmons, Communications Officer, Great Britain
Lucia was sending out some final invitations and organising the list of attendees for an intimate event we are hosting this week to celebrate our 10th Anniversary with longstanding trainers and partner organisations of The Carbon Literacy Project. She was also applying the finishing touches to some social media content created to celebrate the 10th Anniversary with the wider Carbon Literacy community.
Catherine McGinn, Communications Officer, Northern Ireland
Catherine was busy coordinating plans for the second annual Carbon Literacy Action Day (CLAD), working with organisations to finalise their registration for the day, and promoting all the upcoming, open courses that learners can join to become Carbon Literate as part of CLAD. She also spent her time writing and editing a press release to announce the upcoming Action Day.
Operations Team
Vydune Zlabyte, Accreditation Coordinator, Spain
Vidi had an early start with an 8am meeting with a PWC Australia, discussing their plans for working their way up through the CLO levels, and continuing training, beyond their current Bronze accreditation. Then after some criteria checking admin, she supported the Criteria Checking Team, before reviewing the Canadian Conestoga College course for staff and students – which is now our 416th accredited course.
Annie Tarpey, Certification Coordinator, Great Britain
Annie spent her morning answering trainer queries and planning our upcoming trainer events, whilst supporting our new CLAD volunteer team who are working on their first few batches of evidence.
Nicole Baldwin, Project Officer, Great Britain
Nicole was working on a mixture of certification and criteria-checking work. Being part-time allows her to fit work around her studies. Nicole had the pleasure of accrediting a course on Thursday before heading to the library to do university work, and onto a lecture at 11.
Lucas Nabarro, Placement Project Officer, Great Britain
Lucas completed his initial academic placement review with his team lead, Helen, and worked on criteria checking a course to be delivered to staff at Milton Keynes College.
Christopher Low, Certification Officer, Great Britain
Chris was busy reviewing and assessing learner evidence against the Carbon Literacy Standard. He also spent his morning processing, making and sending certificates to newly certified learners.
Finance Team
Ellie Bradley, Finance Officer, Great Britain
Ellie spent her day catching up on emails, setting up new customer accounts and invoicing customers for certificate applications. She also spent some time on criteria checking and working through Carbon Literate Organisation applications.
Thank you to all of the individuals, organisations and communities who have helped us in our journey towards our 10th anniversary. If you'd like to support us on our 10th year, please consider donating £10, or any other amount you're able, to our 10 for 10 Accelerator Fund. Thank you.