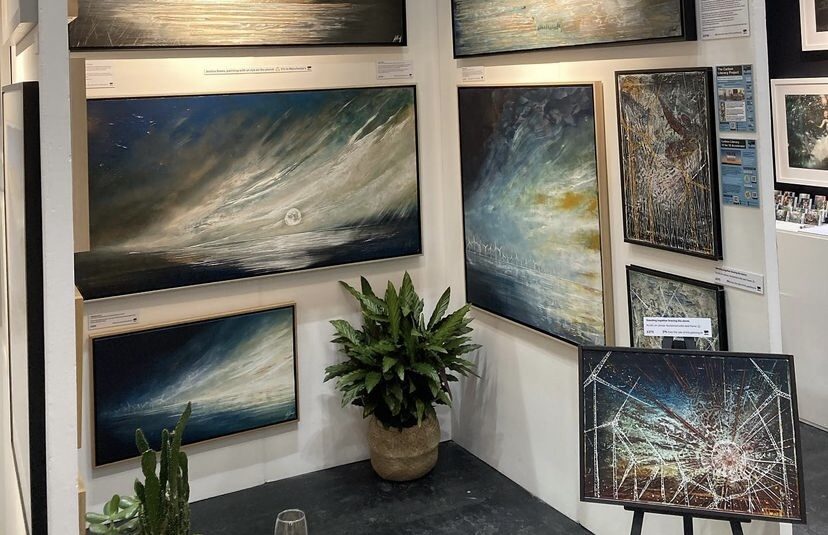 "Art is absolutely pointless on a dead planet" argued artist and climate activist Joanie Lemercier in defence of the recent controversial climate protests by Just Stop Oil. While this is a valid point – the protestors' strategies were undeniably divisive. Whatever your personal opinion on those particular protests, there is another more positive way of looking at the role of art in climate action.
This was highlighted, for us, when Manchester-based artist Jessica Owen donated 5% of her profits from her Manchester Art Fair show to the Carbon Literacy 10 for 10 Accelerator. Delving into what her artwork is about and why she made her generous donation, via the Q+A below, Jessica reveals how art can be used as a positive tool, both emotionally and financially, to stimulate climate action.
Your art is incredibly powerful and thought-provoking. Can you tell us about your artistic practice and the meaning behind it?
"My art is engrained with a deep love for our planet. Love for nature was rooted in me at an early age. Family time across the generations has always been spent in the wild. So, my painting is really a direct response to my environment. Big brooding skies are my trademark. I use a wide array of paint mediums from sprays, and enamel, to oil. Paint is applied by hand, brush and knife. Wind farms and sustainable ancient forestry techniques creep into my work as the health and future of our world is ever present in my conscious."
Why did you choose to display your artwork at the Manchester Art Fair?
"Yearly I show solo at the Manchester Art Fair to take a fresh body of work to my faithful collectors and buyers in Manchester. Being a Mancunian and having held a studio in the city centre for so long made me want to do what little I can locally to combat climate change – a cause that means so much to me, as I believe it should everyone."
How did you discover The Carbon Literacy Project as a means for combatting climate change?
"Through Patagonia Action Works – the 1% for the Planet initiative caught my eye. I searched their website with the hope I'd find a smaller local charity to back. I was so chuffed to find The Carbon Literacy Project. I could not think of a better way to help promote positive change than educating folk, individually and in business, on the changes we can all make every day to deliver a healthier planet for all."
In what way did you decide to support The Carbon Literacy Project?
"Having found out about the Carbon Literacy 10 for 10 Accelerator, I decided to '#FindMy10' by donating 5% from the sale of 10 of my paintings to The Carbon Literacy Project, commemorating 10 years of Carbon Literacy by helping more people become Carbon Literate. I also wanted to highlight The Carbon Literacy Project within the art fair. Posters with QR codes were displayed so people could find out more and take the information away with them to digest at a quieter time."
How did your show at the Manchester Art Fair go?
"The fair was absolutely heaving, all the wind farm paintings sold and many a lively discussion was had on the divisive love/hate of wind turbines. The vast majority see the beauty – not purely the aesthetics – but the beauty in the production of renewable energy.
I met so many ace people, two had already taken part in Carbon Literacy training. One lady – such a beautiful humble soul – who was from India but living in Manchester while writing her PHD on climate change, thanked The Carbon Literacy Project, and me, for making a positive impact. Another lovely lady was actually an accredited Carbon Literacy Trainer, and a photo of one of her training sessions was on the poster created by The Carbon Literacy Project!
All the conversations were full of love, hope and tenderness for the nurturing of our world. 6 out of the 10 paintings sold, so I'm very happy to be donating £300 to the Carbon Literacy 10 for 10 Accelerator."
What are your future plans, both as an artist and as a climate advocate?
"In terms of Carbon Literacy and what I can do with my art, I would happily donate some of the profits from the fair every year. It makes me feel like I am playing a small part in making a difference to secure a healthy future for my children and hopefully grandchildren in the future.
I am also soon to take a role in a large global institution. I have had a glimpse of the carbon footprint and waste often associated with big business. It's my dream that every business can be taught to advocate for, and abide by the principles of, Carbon Literacy."
"This is how I am going to attempt to make a difference. I want to invite others to ask themselves and others: what can you do?"
The last few days of 2022 are your last chance to support the Carbon Literacy 10 for 10 Accelerator! Donate here.