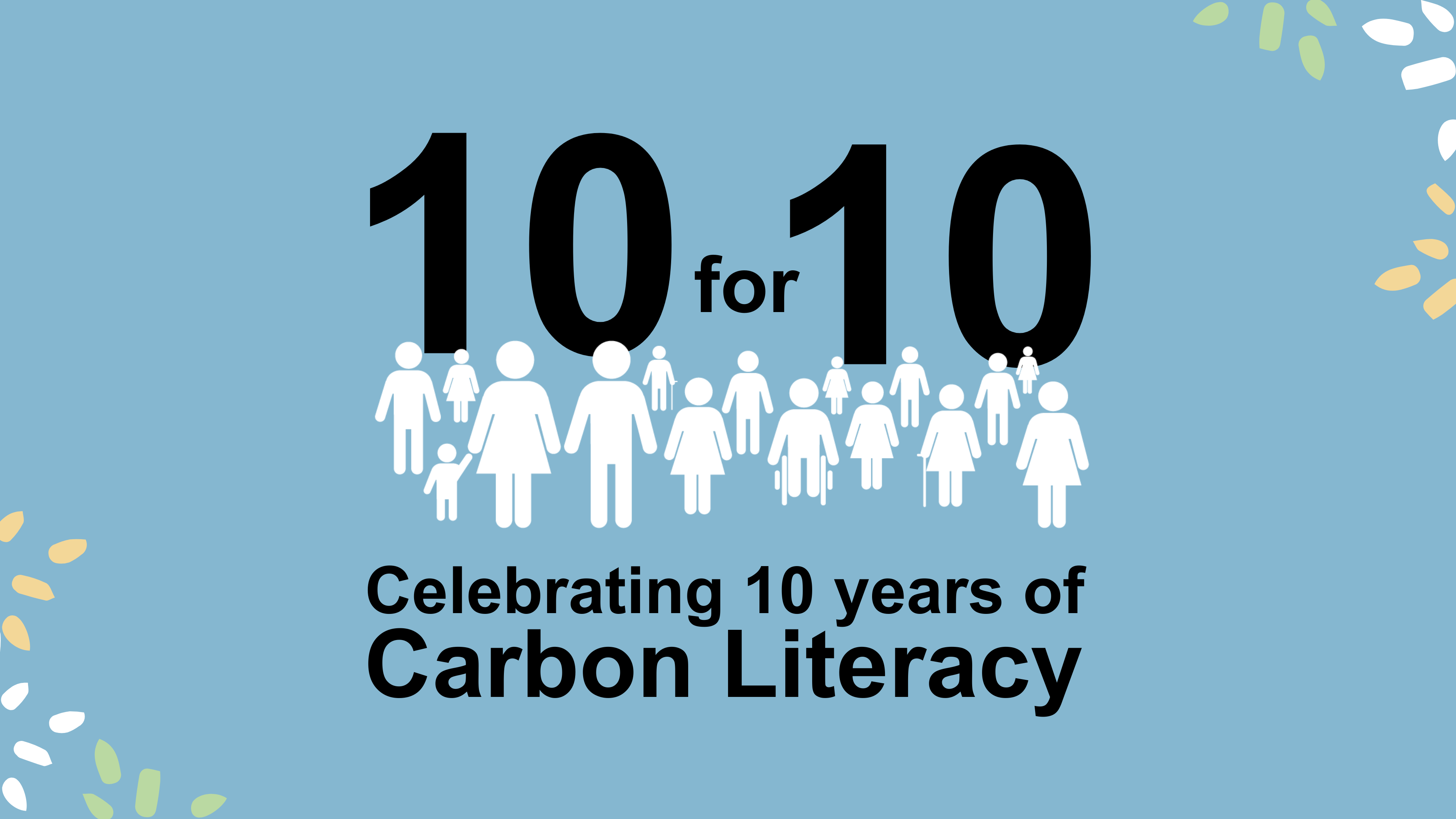 In 2022, we ran our first-ever major fundraiser – the 10 for 10 Accelerator – to mark and celebrate 10 years of The Carbon Literacy Project.
As a small charity with no core funding, running a fundraiser of this kind and size would enable us to continue, and accelerate, the unprecedented speed of growth that we have witnessed in our most recent years.
At the beginning of 2022, we had certified just less than 25,000 learners. Now, at the beginning of 2023, we have certified over 49,000 learners – almost doubling in size in the last year alone. We are continuing to grow at an astonishing rate, and see no signs of slowing down.
Whilst we set a hugely ambitious target for this fundraiser, it was the first and largest fundraising event we have ever attempted, and we are absolutely astonished and delighted to have reached one-fifth of that target envisaged at the beginning of 2022.
10 for 10 Accelerator
Over the last 12 months, we have seen an incredible amount of community and generosity with our 10 for 10 Accelerator fund. We received charitable donations from hundreds of individuals, from members of our Trainer network, and even had our first, incredibly exciting, personal fundraisers for Carbon Literacy!
Fantastic Fundraisers
First and foremost, our team member, Vydune, cycled 500km from Northern Spain to Porto in Portugal, all in the name of Carbon Literacy. On her journey, Vydune did everything as low-carbon as possible; she ate a predominantly plant-based diet, wore second-hand gear, and wild camped along the way. In doing so, she learned what truly matters by connecting with nature, and herself.
Next, we had our teammate, Catherine, who challenged herself to a 10 Peak Challenge, where she climbed 10 famous mountains across the island of Ireland, and raised vital funds for Carbon Literacy with every step. Her challenge lasted from June until October, and through her challenge, she took Carbon Literacy to 10 breathtaking peaks across Ireland – North and South.
Having found The Carbon Literacy Project via Patagonia Action Works, Manchester-based artist Jessica Owen found her 10 (#FindMy10) by donating 5% from the sale of 10 of her paintings at her Manchester Art Fair show to the Carbon Literacy 10 for 10 Accelerator. Jessica did this with the aim of commemorating 10 years of Carbon Literacy by helping more people become Carbon Literate.
Last but not least, we had an exciting fundraiser from the Elliot & The Rushes, just as we approached the festive season in 2022. The Rush children, when asked, "If you could have anything for Christmas, for the whole world, what would it be?" answered, "An end to war" and "A solution to climate change". So, they decided to delight us with a fantastic, yet meaningful, song about their hopes for the future, and for the betterment of the world.
Carbon Literacy Partners
During our 10th year, we launched the Carbon Literacy Partner Scheme – a new, tiered approach to our fundraising activities, that enables organisations to provide The Carbon Literacy Project with vital financial support to help us expand our reach and impact, and continue delivering Carbon Literacy, at scale, around the world.
We are incredibly grateful to all of our Corporate Partners who have supported us this year, and in the years gone by, that share our vision for a zero-carbon future and work tirelessly with us to help make Carbon Literacy accessible to everyone.
Thank You
We want to express a huge thank you to everyone in the Carbon Literacy community who supported our 10 for 10 Accelerator Fund, whether that be through making a donation, reading our 10th Anniversary stories, or simply following along on the journey.
The support we received this year truly means the world to all of us here at The Carbon Literacy Project. You are helping us drive a low-carbon initiative across the globe, and build a better world for future generations.
Looking Ahead to 2023
After the jaw-dropping rate of growth we witnessed last year, we are now incredibly excited to see what 2023 will bring for us at The Carbon Literacy Project. We have already announced some exciting initiatives for 2023 and look forward to bringing these to fruition, so we can continue to support the roll-out of Carbon Literacy, support the wider Carbon Literacy community, enable citizens everywhere to continue taking meaningful action on climate change, and in all, aspire towards a better tomorrow.
Here's to 2023!