2022 was a truly groundbreaking year for The Carbon Literacy Project. Our 10th Anniversary year; it was always going to be a special one for us. That being said, with the unparalleled dedication and hard work of our incredible team (including our volunteers, interns, Trustees and CL trainers), it has been another mind-boggling, record-breaking year, witnessing the growth of Carbon Literacy at a rate never seen before.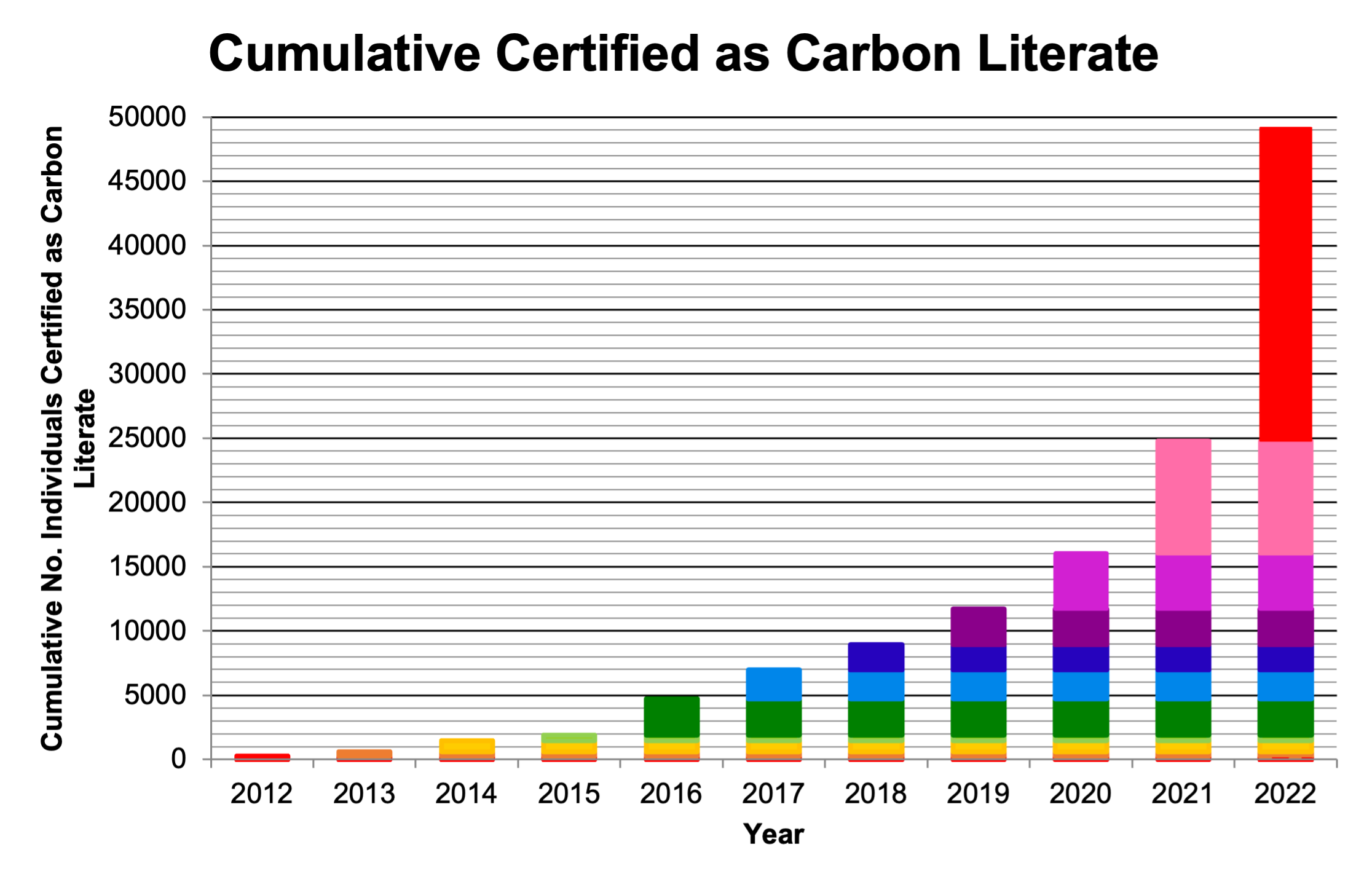 A staggering 24,368 learners were certified in 2022 – which means we have almost doubled the cumulative total of citizens certified as Carbon Literate in the last year alone. It also means we have begun 2023 tantalisingly close to our next huge milestone, only a few hundred learners away from certifying 50,000 citizens as Carbon Literate.
In 2022, we also welcomed 75 Carbon Literacy Trainers and Facilitators and 73 Carbon Literate Organisations into the Carbon Literacy family, as well as successfully engaging a further 2,018 organisations, across 3 further nations, and accrediting a further 164 unique courses.
Read on for a recap of some of our highlights from 2022, as well as some key dates for 2023!
Carbon Literacy 10 for 10 Accelerator
In 2022, we ran our first-ever major fundraiser – the 10 for 10 Accelerator – to mark and celebrate 10 years of The Carbon Literacy Project.
Read more of our reflections on the 10 for 10 Accelerator here.
Carbon Literacy for Museums Launched
As part of the Roots and Branches Project – a collaboration between Manchester Museum (part of the University of Manchester), Museum Development North West (MDNW), and The Carbon Literacy Trust, funded by Arts Council England (ACE) – the Carbon Literacy for Museums Toolkit was launched in January 2022. The Roots and Branches Project went on to win an award for the Promotion of Environmental Sustainability at the Manchester Culture Awards in November 2022.
Read more about Carbon Literacy for Museums here.
Carbon Literacy for the Civil Service Launched
Funded by the UK Government Department for Business, Energy and Industrial Strategy (BEIS) and the Greater Manchester Combined Authority, the Carbon Literacy for Civil Service Toolkit was launched in February 2022. The toolkit is a free-to-use, accessible and adaptable framework for certified Carbon Literacy training within Central Government Departments, Executive Agencies, Non-Ministerial Departments and executive Non-Departmental Public Bodies.
Read more about Carbon Literacy for the Civil Service here.
Carbon Literacy in Education Climate Strategy
The UK Department for Education put Carbon Literacy at the heart of its Climate & Sustainability Strategy, in April 2022, when it announced the creation of Sustainability Leads across the sector – all of whom are to be trained in Carbon Literacy.
Read more about how Carbon Literacy was put at the heart of the Education Climate Strategy here.
Carbon Literacy for Healthcare Leadership Launched
The second Carbon Literacy for Healthcare Toolkit course – tailored specifically for Healthcare Leadership – launched in June 2022.
Read more about the launch of Carbon Literacy for Healthcare Leadership here.
Third CLO Awards
On Thursday 14th July 2022, we held our third Carbon Literate Organisation Awards at The Whitworth art gallery. After three, long, years since our last awards, due to COVID-19, we were joined by over 100 delegates who came together to celebrate the Carbon Literacy successes in their organisations.
Read more about the CLO Awards 2022 here.
Second Annual Carbon Literacy Action Day
On the 7th of November 2022, we held the second annual international Carbon Literacy Action Day (CLAD), which saw an astonishing 441 individuals, across 31 organisations and 11 nations, take part in and complete their Carbon Literacy training. We also awarded the first-ever CLAD Catalyst Award winners to organisations that achieved the most success in maximising the impact of their Carbon Literacy training.
Read more about the 2022 Action Day here and about the CLAD Catalyst Winners here.
Launch of our Partner Scheme
We announced the launch of the Carbon Literacy Partner Scheme in December 2022. This is a brand-new, tiered approach to our fundraising activities which enables organisations to provide The Carbon Literacy Project with crucial financial backing that helps us to expand our reach and impact, and to deliver Carbon Literacy training on a much larger scale, all while maintaining our rigorous quality control.
Read more about the launch of the Partner Scheme here.
Looking Ahead to 2023
So, this year has been another one for the books. We have seen historic climate action, but we know there is much more work to be done. We are closer than we ever have been before to reaching the global goal of limiting warming to 1.5C, but time is against us. We must work together to accelerate action towards that goal during the year ahead by significantly ramping up efforts to cut our collective greenhouse gas emissions.
Our aim for 2023 is to try and double in size yet again – we're aiming for 100,000 learners certified as Carbon Literate by the end of the year! Doubling the number of actions pledged and individuals taking meaningful climate action.
Can you help us achieve our aim?
If you know of anyone looking for help to reduce the carbon footprint of their place of work, study, or community, or educate their people in climate change and what they can do about it, put them in touch with us to see how Carbon Literacy can accelerate their plans for a zero-carbon future.
Important Upcoming Dates
6th Jan – onwards
Latest open Carbon Literacy courses
31st January
Colleges Support Scheme deadline
28th February
CLO Application Deadline for CLO Awards
June (TBC)
CLO Awards
4th December
Carbon Literacy Action Day
Keep your eyes peeled for more important dates for your diary coming in the weeks and months ahead!