On Thursday 14th July 2022, we held our third Carbon Literate Organisation Awards at The Whitworth art gallery. After three long years since our last awards, due to COVID-19, we were joined by over one hundred delegates who came together to celebrate the Carbon Literacy successes in their organisations.
The evening was a fantastic opportunity to celebrate the 71 organisations, from across a range of different sectors of society, receiving awards from Bronze to Platinum.
There was lots of hustle and bustle on the evening, with attendees conversing over drinks and canapés before the ceremony began. The ceremony, which was hosted by Dave Coleman and Phil Korbel, Co-Founders and Directors at The Carbon Literacy Project, started with a warm welcoming address, while acknowledging the organisations who weren't able to join us on the evening. Then it was over to Tom Rumboll, CEO of SYNETIQ, who sponsored the event, to talk about their experience of Carbon Literacy as an organisation so far, and their journey to Silver accreditation.
We were delighted to be joined by two excellent guest speakers, who took to the stage to inspire our delegates at intervals between the awards. Firstly, we heard from Keisha Thompson, Creative Director at Contact Theatre, who talked about the role of the arts within the climate crisis.
Later we heard from Sam Black, co-founder of Ergon Theatre who inspired us with a video snippet about their most recent production, The Wicked Problem, which involved the audience participating as the jury in the world's first ecocide trial.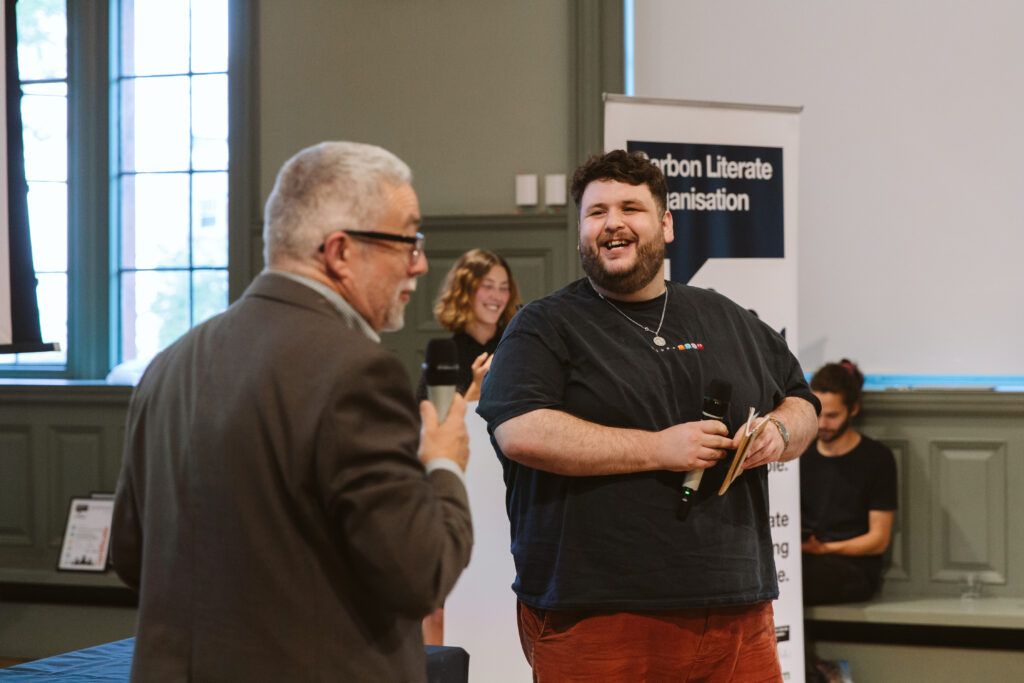 As the awards were being held at the Whitworth Gallery, an iconic arts venue in Manchester, we felt it important to highlight the strong connection between communicating climate change and the arts. This can be seen in the way that the message can be shaped and conveyed to different audiences, tackling the emotional content that comes with the topic of climate change. It was something we also saw highlighted at events in the green zone at the recent COP26, including one we attended and reviewed – Arts and the Imagination.
During the awards ceremony, we played some excellent videos, which showcased organisations that have achieved CLO accreditation from across the different tiers. In these videos, organisations shared the message of how Carbon Literacy has positively impacted their organisation, the journey they took to successfully implement it, and what led them to become accredited as a CLO. These videos were inspirational and allowed other attendees to visualise how Carbon Literacy can work for a wide range of organisations, no matter who they are and what they do.
Want to catch up with the CLO showcase videos? Watch Bronze here, Silver here and Gold here.
The awards were presented by Dr. Ali Abbas, Chair of The Carbon Literacy Trust. Towards the end of the evening, a Special Contribution award was presented to Beechfield Brands for their consistent support of The Carbon Literacy Project, since its inception in 2011, without which much of The Carbon Literacy Project's work would not be possible.
It was an honour and truly inspiring to bring together organisations representing such a range of different sectors of society, including healthcare, arts, automotive, local government, finance and many more. Every organisation awarded has demonstrated a true commitment to tackling climate change, by supporting their Carbon Literate staff in taking action, and sharing knowledge and best practice around Carbon Literacy within their sector or locality.
In the 2022 CLO Awards, the following organisations have been accredited as:
Carbon Literate Organisation
Bronze:
Aberdeen University Students' Association
Adra
Amgueddfa Cymru National Museum Wales
Autoglym
Avison Young (UK) Limited
Balfour Beatty
Beechfield Brands
Broadacres Housing Association
Cambridgeshire County Council
Cardiff City Council
De Montfort University
Denbighshire County Council
DRH AMRE Consultants
Dumfries and Galloway Council
Electricity North West (Construction & Maintenance)
Elevate GM Limited
Fife Council
FourNet
Halton Housing
High Peak Borough Council
High Speed Two (HS2) Ltd.
Lancashire County Council
Leicester and Leicestershire Enterprise Partnership (De Montfort Enterprise Partnership)
Leith Community Crops in Pots
Mason Infotech ltd
McLaughlin & Harvey
Merthyr Tydfil County Borough Council
Monmouthshire County Council
North Somerset Council
North West Ambulance Service NHS Trust
Nottingham City Council
One+All
Peel L&P
Protect Our Winters UK
Reigate & Banstead Borough Council
Rolls-Royce & Partners Finance
Scottish Veterans' Residences
Shropshire Council
South Hams District Council & West Devon Borough Council
South of Scotland Enterprise
Staffordshire Moorlands District Council
Stockport Metropolitan Borough Council
Swinburne University of Technology School of Business, Law and Entrepreneurship
The University of Queensland, Business School
Transport for Greater Manchester
Unity Trust Bank
Warrington Borough Council
West Sussex County Council
Winchester City Council
Wirral Environmental Network
Wyre Council
Silver:
Anthesis (UK)
BASF UK and Ireland
Dacorum Borough Council
Electricity North West Ltd
Galliford Try (Building North West)
ITV Studios – Coronation Street
Leeds Teaching Hospitals NHS Trust – Estates & Facilities Department
Manchester City Council
Studio 91 Media
SYNETIQ Limited
Gold:
Auto Trader
Greener Kirkcaldy
Groundwork Greater Manchester
Manchester Museum, University of Manchester
NHS Salford CCG
Peel Media
Platinum:
EAUC – The Alliance for Sustainability Leadership in Education
Great Places Housing Group
Northwards Housing
Speak Carbon Collective
Special Award:
We were very proud to bring together all these organisations and individuals in one room to celebrate their achievements. Thank you again to our hosts, the Whitworth, and our sponsors, SYNETIQ for making the evening possible. We can't wait to hold the next CLO Awards in 2023, where we will be awarding many more organisations. To find out more about how your organisation could become a CLO, please visit our website, and/or contact us for more information.