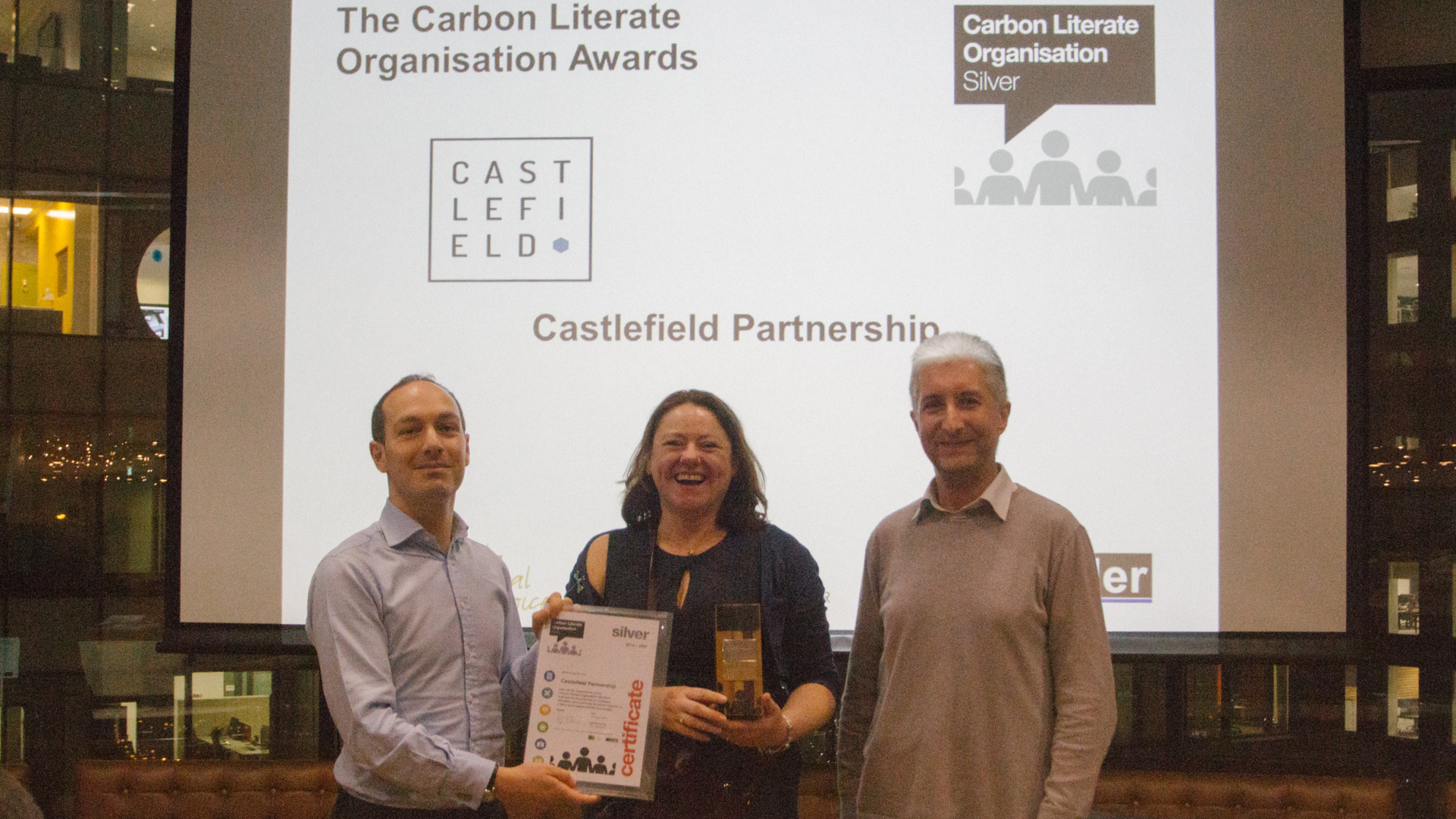 Throughout our 10th Anniversary year, we're sharing 10 stories for the 10 years of Carbon Literacy; one story for each year, shared once per month, in the 10 months leading up to the official anniversary date in October.
Story number seven brings us to 2018, the year Castlefield embarked upon a journey to become the world's first Carbon Literate financial advisor.
Castlefield: A Financial Services First
Castlefield are an investment management and financial planning business. Uniquely, their employees hold a majority stake in the company, alongside a major grant-making charitable foundation. They say this helped them to define values including long-term sustainable growth, respect and responsibility, which have led them to become widely recognised for their expertise in responsible and sustainable investment.
It was also this approach that led them to Carbon Literacy.
Why Carbon Literacy?
As a business focused on ethical and sustainable financial advice, Castlefield saw it as critical to ensure their team understood climate change.
"Climate Change is one of the many things our clients care about and take into account in financial planning. We were the first to add a fossil free screen into one of our funds in the UK, our BEST Sustainable Income Fund.
We knew it was important for the team to be aware of our clients' concerns around Climate Change, how it can impact on businesses in financial services and what they can do to make a difference both in the workplace and at home."
They recognised Carbon Literacy training as a valuable tool to help their team engage more readily with their sustainable business model and enable them to share their knowledge with others.
2018: The roll-out
In 2018, Financial Advice Partner, Chartered ALIBF and Co-owner of Castlefield Advisory Partners, Helen Tandy, completed Carbon Literacy train-the-trainer training and used this experience to develop Castlefield's own Carbon Literacy training programme.
They completed their first Carbon Literacy training session in March 2018, and by the end of the year, over 85% of the team had undertaken the training. Castlefield felt it was essential to get as many co-owners through the programme as possible to ensure group pledges were agreed upon and thus ultimately actioned.
2019: Gaining Silver CLO accreditation
Having demonstrated a commitment to embedding Carbon Literacy into their organisation and supporting their team in taking action, Castlefield Partnership gained Silver Carbon Literate Organisation (CLO) status at the 2019 CLO Awards. In doing so, they became the world's first Carbon Literate financial advisor.
But they weren't stopping with this badge – and even a global pandemic wouldn't stop them. In fact, they found that lockdown pushed forward their carbon reduction plans.
2020: The impact of Covid-19
What had initially been forced adaptations to lockdown-induced home working have since become core carbon-cutting features of Castlefield's everyday functioning.
In-person to online client meetings: switching to meeting clients via secure, online video chat cut the carbon emissions associated with travel and overnight stays, which had been the most carbon-intensive part of their operations. Clients also saw this as a more efficient use of time.
Printed to online valuations and reports: switching to using a secure, online portal to send documents cut their paper usage and, in turn, the carbon footprint associated with paper production, printing, postage and decomposition.
Office-based to hybrid working: switching to working from home and only going into the office when necessary has cut commutes and the associated carbon footprint for the team of co-owners.
2021: Towards Net Zero
In December 2021, Castlefield announced a commitment to making their own operations and supply chain net zero by 2030, with an additional aim to achieve net zero in their investment portfolio by 2040.
To help meet these ambitions, Castlefield plans to retain their CLO status; continuing to train new staff and refresh existing staff on reducing their carbon footprint, ultimately maintaining an essential low-carbon organisational culture.