On Thursday, 15th June 2023, we celebrated our fourth and biggest Carbon Literate Organisation (CLO) Awards. We celebrated 87 new CLOs across all kinds of sectors.
The event took place in Manchester at Contact Theatre. With over 100 delegates, together we celebrated the successes and achievements of each organisation and had special guest speakers further inspiring us. The ceremony was also live-streamed to allow organisations from further afield to tune in and celebrate virtually.
The evening started off with an opportunity to network over drinks and vegan canapés, provided by ARMR, before the ceremony began. The ceremony took place in one of the lovely theatre halls, hosted by Dave Coleman and Phil Korbel, Co-Founders and Directors at The Carbon Literacy Project. After some welcoming words, half of our Bronze awardees were given a spotlight to highlight their achievements, followed by a round of applause.
We took a quick break to hear from Rachael Parr, People and Corporate Services Director at Electricity North West, who kindly sponsored this event. Rachael shared with us the impact that delivering Carbon Literacy at scale has had on their organisation. With its diverse workforce, CL has helped to bring its people on board, motivating them to join on their core mission of decarbonising the North West.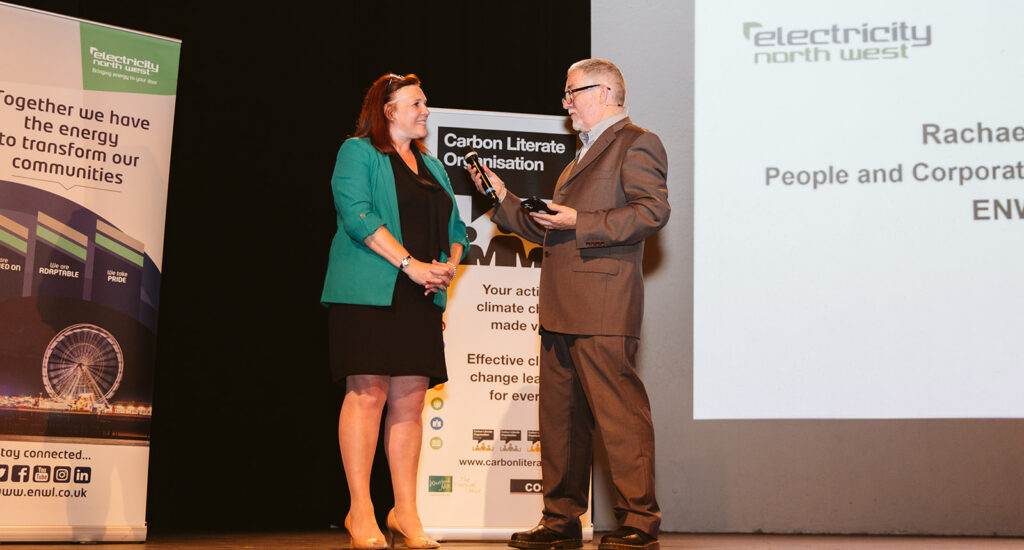 Following the presentation of the second half of our Bronze Awardees (62 in total), we showed a compilation of videos from some of the newly accredited Bronze CLOs. Organisational leaders shared their stories of how Carbon Literacy has positively influenced their organisation, the steps they undertook to successfully integrate CL and the factors that led to their recognition as a CLO.
Then, it was time to celebrate our 14 Silver, 7 Gold and 4 Platinum awardees. As our hosts presented some key highlights and achievements of each organisation, representatives came up on stage where they were presented with their trophies and certificates. The awards were presented by Dr. Ali Abbas, Chair of The Carbon Literacy Trust. Each organisation's story served as a source of inspiration, allowing other attendees to envision how Carbon Literacy can benefit a wide array of organisations, regardless of their unique identity or industry.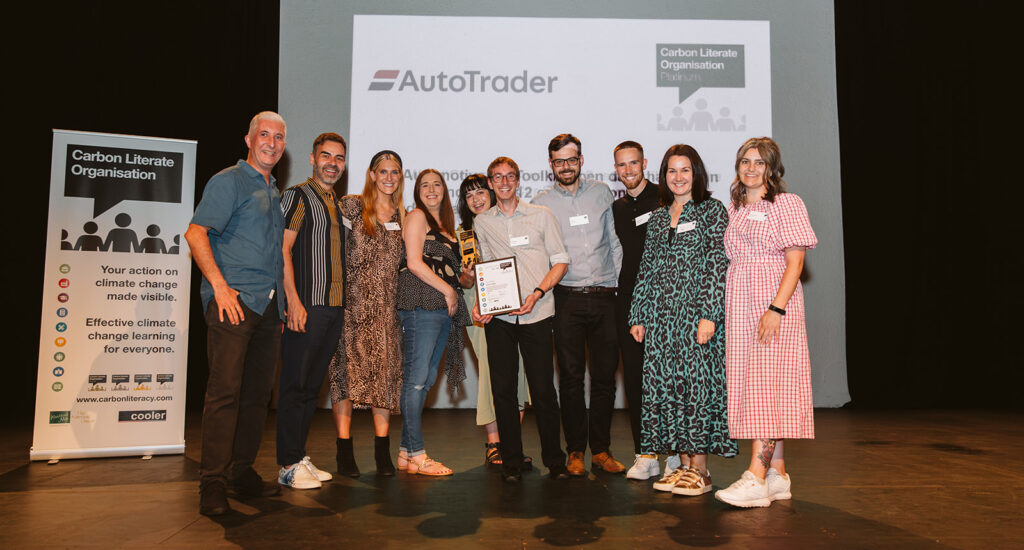 In between welcoming our awardees on stage, we heard from our excellent guest speaker, Keisha Thompson, Creative Director at Contact Theatre. It was truly inspiring to discover how Contact Theatre integrates climate action into its operations, showcasing the proactive role the creative industry can play in driving significant change. We also learnt that the venue is designed with environmental sustainability in mind. It's remarkable architecture incorporates a natural ventilation system, eliminating the need for air-conditioning and effectively reducing energy consumption at Contact Theatre.
This year's Award Ceremony finished with a poem to inspire our delegates. Hosting the CLO Awards at Contact Theatre provided the perfect opportunity to highlight the crucial link between climate change communication and the arts. We commissioned the talented Noé Sébert, Actor and Co-Artistic Director at Ergon Theatre, to write and perform the poem, 'Walking Each Other Home'. It cleverly mixed humour and entertainment while driving home the importance of climate education and empowerment across all sectors.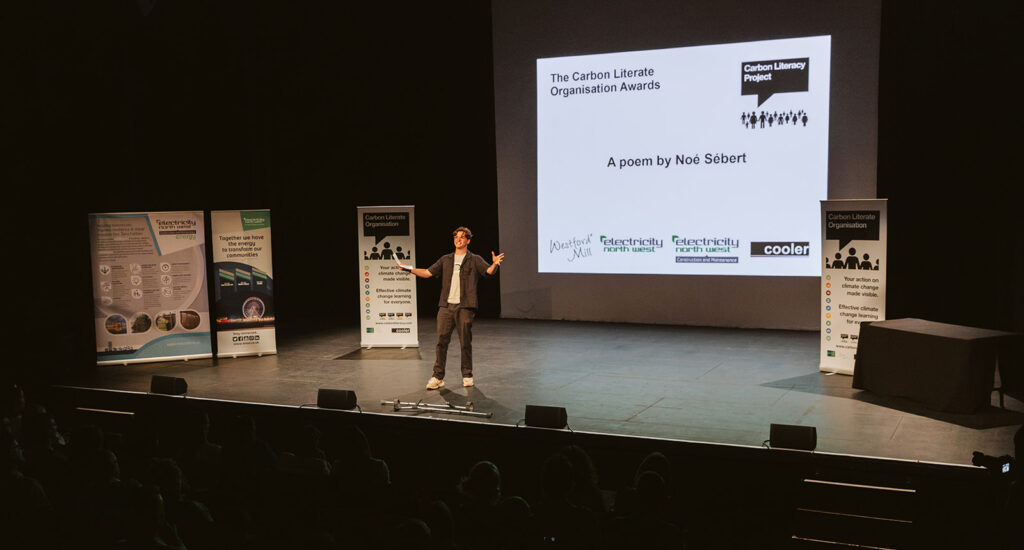 The Carbon Literate Organisation Awards 2023 were a true honour to host and provided a source of immense inspiration for us and the attendees. The event successfully united organisations from diverse sectors of society, including local councils, housing, automotive, manufacturing, arts, finance, and many others. Witnessing such a broad representation highlighted the widespread commitment to addressing climate change.
We would like to say a huge congratulations to the awarded organisations (listed below), all of which have exemplified a genuine commitment to addressing climate change and creating a low-carbon culture. We also want to extend our heartfelt gratitude to our sponsors, Electricity North West and Electricity North West Construction & Maintenance, for helping to make this memorable evening a reality.
Looking ahead, we are already eagerly anticipating the upcoming CLO Awards in 2024. We are excited to recognise and honour many more deserving organisations for their exceptional commitment and efforts. Discover how your organisation can become a CLO, or contact us for further details.
The full list of Carbon Literate Organisations accredited at the 2023 CLO Awards:
Bronze:
Burnley Borough Council
Advance Welding
Argyll & the Isles Coast & Countryside Trust
Argyll and Bute Council
Arun District Council
Autovista Group
Bailey Morris Ltd
Barnsley College
Beldam Crossley Limited
Birmingham Specialities Ltd
Blaby District Council
Buckinghamshire Council
CASE
Central Bedfordshire Council
Chinese International School
City College Plymouth
Coastal Housing Group
Corra Foundation
Cumbria County Council
De Montfort University, Dubai
DLA Piper UK
DWF Law LLP
Ellard Limited
Essex County Council
Exeter City Council
Fife College
Government Office for Science
Gravesham Borough Council
Green Takeover
Hampshire Cultural Trust
HEXPOL TPE Ltd
Indutrade UK Limited
Isle of Wight Council
JCB Finance
Keep Northern Ireland Beautiful
Kyndryl UK & Ireland
Kyndryl, USA
Lookers plc
Marshall Motor Group Ltd
Micro Spring and Presswork Co Ltd
Natgraph Limited
Newydd Group
Plymouth City Council
Port of Brisbane Pty Ltd
Precision Products (UK) Ltd
PwC Australia
Rugby Borough Council
Staffordshire University
Surrey County Council
TAS Racing Ltd
The National Farmers Union Mutual Insurance Society Limited
Trelawny SPT Limited
University of Central Lancashire
Varndean College
Vernacare
Verplas Limited
West Midlands Combined Authority
whg
Wirral Metropolitan Borough Council
YB Fixings
Yugo
Zest Eco Ltd
Silver:
Amgueddfa Cymru – Museum Wales
Broadacres Housing Association
Charcoalblue Ltd International
Copart UK Ltd
Electricity North West (Construction & Maintenance) Ltd.
Ellers Farm Distillery Ltd
High Speed Two (HS2) Ltd.
Kia UK Limited
North Somerset Council
Palatine
Peel L&P
Rolls-Royce & Partners Finance
South of Scotland Enterprise
The Hive
Gold:
Environment Agency
Fife Council, Planning Service
Halton Housing
Museums Galleries Scotland
NorthEdge Capital LLP
Positive Planet
Walker Resource Management Limited
Platinum:
Association for Public Service Excellence
Auto Trader
Cumbria Action for Sustainability
Keep Scotland Beautiful