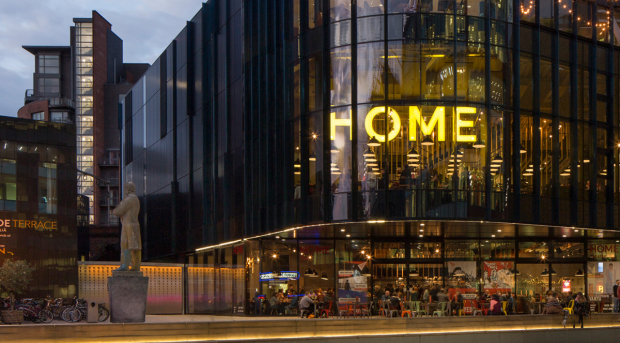 As ever, HOME has had a brilliant year in terms of continuing their commitment to being leaders in the arts sector, finding new, creative ways to tackle the environmental crisis through spreading awareness and education, showing leadership through action.
In July, HOME attended the third annual Julie's Bicycle Creative Green Awards, and were thrilled to take home the award for Best Multi-Arts Centre. The judging panel commended HOME for their numerous initiatives in embedding sustainable change and leadership in their sector and beyond. They said: "HOME has worked with Carbon Literacy to create a sector-specific training package which is run with all staff and across Manchester Arts Sustainability Team (MAST)." They were also very impressed with HOME's commitment to ensuring visitors appreciated their commitment and effort to protect the environment, which is also something that helped them reach platinum Carbon Literate Organisation status.
Furthermore, HOME has shown a commitment to screening hard-hitting environmental films this year, tackling a multitude of issues through previously unseen lenses. This summer, FilmLondon hosted a Green Filmmaking and Cinema event at London Transport Museum, which comprised a series of industry-specific environmental and sustainability presentations followed by a screening of the powerful Aquarela by Vikto Kossakovsky. HOME were invited along to present on its team efforts and Carbon Literacy training and shared the stage with Julie's Bicycle, Lewes Depot, BAFTA, Good Energy, GreenShoot and artist-filmmaker Patrick Hough. With numerous companies and attendees under one roof, HOME stressed the importance of a network to spread and sustain positive change through "spheres of influence".
Back in March of this year, you might have heard that HOME delivered Carbon Literacy training to city leads from URBACT Good Practice C-Change network. The project involves 5 European cities (Sibenik, Croatia; Wroclaw, Poland; Gelsenkirchen, Germany; Mantova, Italy; Agueda, Portugal) and Manchester collaborating in a transfer network on a two-year project to drive sustainable action by aligning cultural venues and projects with municipal sustainable strategies and policy. At the start of October, the partner cities returned to Manchester with artists and cultural venue leads. HOME's Environmental team were seconded by Manchester City Council for a few days and headed over to Royal Exchange Theatre to train the new delegates (artists and creatives, policymakers and cultural leaders) and members of MAST (Manchester Arts Sustainability Team). The Carbon Literacy training formed the core focus of the study visit with the cultural leads undertaking exercises and in-depth discussion around what a training tool and action plan might look like in their own cities. The group also made a visit to HOME where they were welcomed by CEO Dave Moutrey, who is also the Cultural Leader for Manchester City Council. This initiative is a great example of the importance of collaboration driving change, where the study visit gave the perfect opportunity to bring together MAST members together to think about the role of the cultural sector in driving forward Manchester's zero-carbon ambitions. The project continues into 2020 with a C-Change arts festival in the planning!
Ending 2019 on a high, in December they also welcomed staff members from Royal Court (London), the Barbican Centre (London), Watershed (Bristol) and Courtyard (Hereford) to complete Carbon Literacy training with HOME new starters, Chris Jeffries from their Board of Trustees and Andrew Ellerby, the sustainability lead for Arts Council England. With each venue or organisation making their own commitments to sustainability, they were pleased and proud to be able to share their knowledge and experience with their sector peers, some of whom face similar challenges and some who are at the beginning of kick-starting their green journey.
This snapshot was taken from the HOME Green News bulletin and summarises some of the great work they've been doing this year with Carbon Literacy. If you'd like to take a look at what other brilliant work they've been doing in the environmental realms, take a look at the sustainability section of their website.