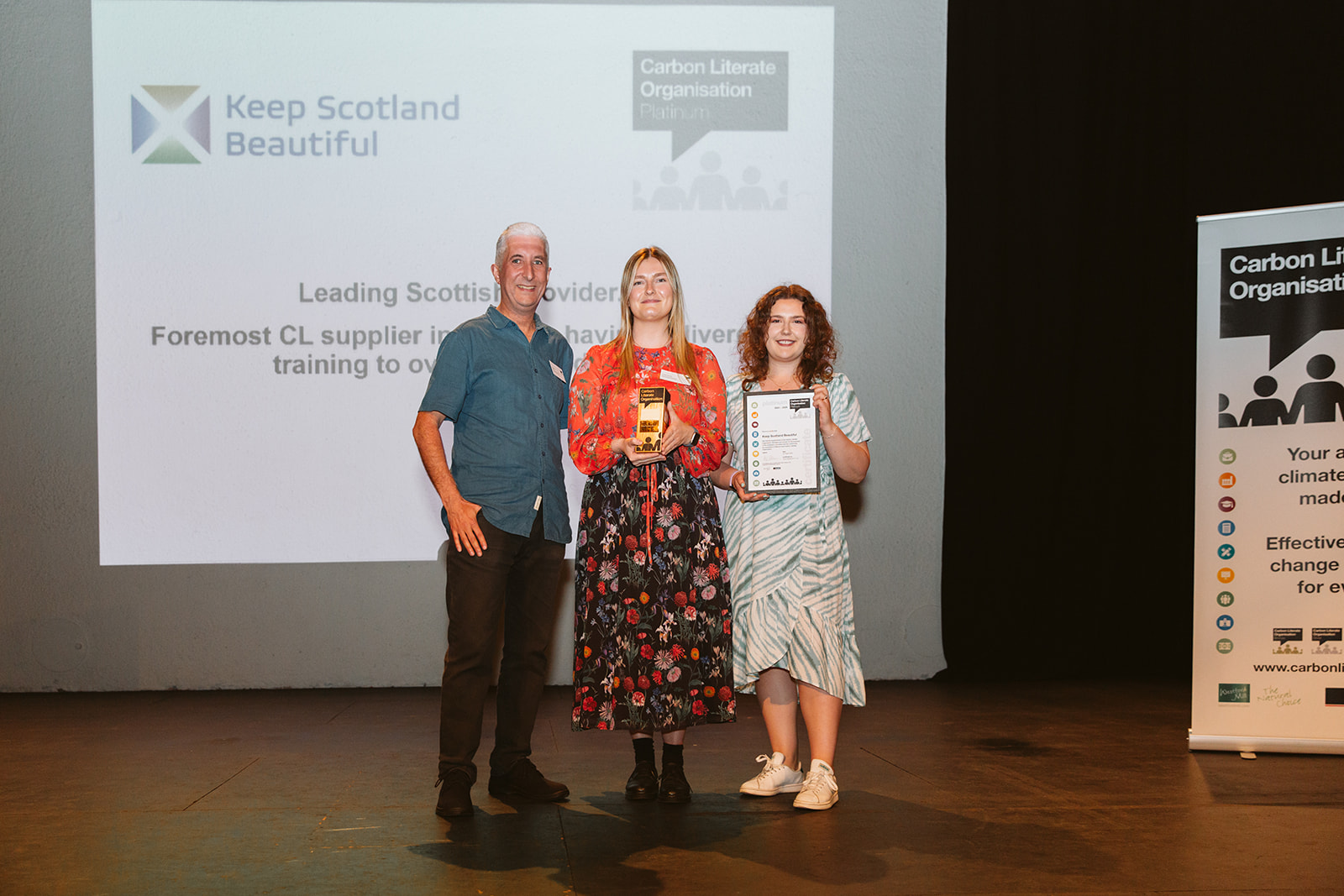 We are incredibly excited to announce that over 6,000 Carbon Literate learners have been certified as a result of Keep Scotland Beautiful's Carbon Literacy® training programmes – meaning it has trained 10% of all Carbon Literate citizens worldwide!
Keep Scotland Beautiful (KSB) is Scotland's environmental charity, aiming to inspire action all across the nation to keep Scotland beautiful. With a vision for a clean, green Scotland, KSB is driving a low-carbon future as it aims to meet net zero by 2045.
Combatting climate change is one of KSB's three main organisational aims, and it is achieving this by catalysing climate action right across Scotland through the delivery of Carbon Literacy.
Pioneering Scotland's low-carbon future
Keep Scotland Beautiful understands that education is vital in taking action and informing key decision-making for our environment. So, to help people better understand the climate crisis that stands before us, it offers Climate Emergency Training for a variety of audiences and has also created Climate Ready Classrooms; a climate education programme being delivered to half the secondary schools in Scotland.
Having begun pioneering Climate Emergency Training in Scotland in 2016, KSB has worked across a variety of sectors and subjects to help businesses, organisations, and individuals understand the climate emergency and drive an actionable and measurable response in tackling it. As a result of the Accredited Training, over six thousand people in Scotland have now been certified as Carbon Literate after gaining knowledge of the carbon costs and impacts of activities and identifying practical actions to tackle them.
Having surpassed certifying 60,000 learners as Carbon Literate, and indeed hitting 67,000 just this week, we can now officially state that KSB has accounted for 10% of all Carbon Literate learners; the highest number of learners to be trained and certified as a result of one organisation!
Where to next?
To celebrate this milestone, Keep Scotland Beautiful has expanded its range of Accredited Training to include 10 sector-based courses for businesses and organisations covering: Biodiversity; Communities; Construction; Energy; Housing; Local Authorities; Tourism; Sport; Transport and Youth. This expansion means that KSB can help businesses and organisations to create a package of training that is relevant to their needs.
Catherine Gee, Deputy Chief Executive at Keep Scotland Beautiful, said:
"We want to create a Carbon Literate Scotland to help combat climate change and ensure that businesses, organisations and individuals across the country can respond successfully to the risks, responsibilities, and opportunities ahead.
"That's why we have expanded our Climate Emergency Training to provide further opportunities for contextual learning through 10 accredited sector-based courses. This training will help you identify practical actions to reduce carbon emissions, and future-proof your business, organisation and home life as far as possible."
This incredible achievement comes after Keep Scotland Beautiful was awarded a Platinum Carbon Literate Organisation Award at the most recent CLO Award Ceremony in June – the highest level of CLO accreditation, and an award that recognises their absolute dedication toward driving action on climate change.
In addition to its Platinum success, KSB has also been a Carbon Literate Training Organisations (CLTO) since 2018. CLTO is an invite-only accreditation offered to organisations that are pioneering Carbon Literacy training across multiple organisations and sectors, and demonstrates KSB's depth of experience and expertise in designing and delivering quality Carbon Literacy training.
We look forward to witnessing Keep Scotland Beautiful as it continues to engage and upskill organisations, communities and individuals to join as it leads the way towards a Carbon Literate Scotland.
Find out more about Climate Emergency Training at Keep Scotland Beautiful here.