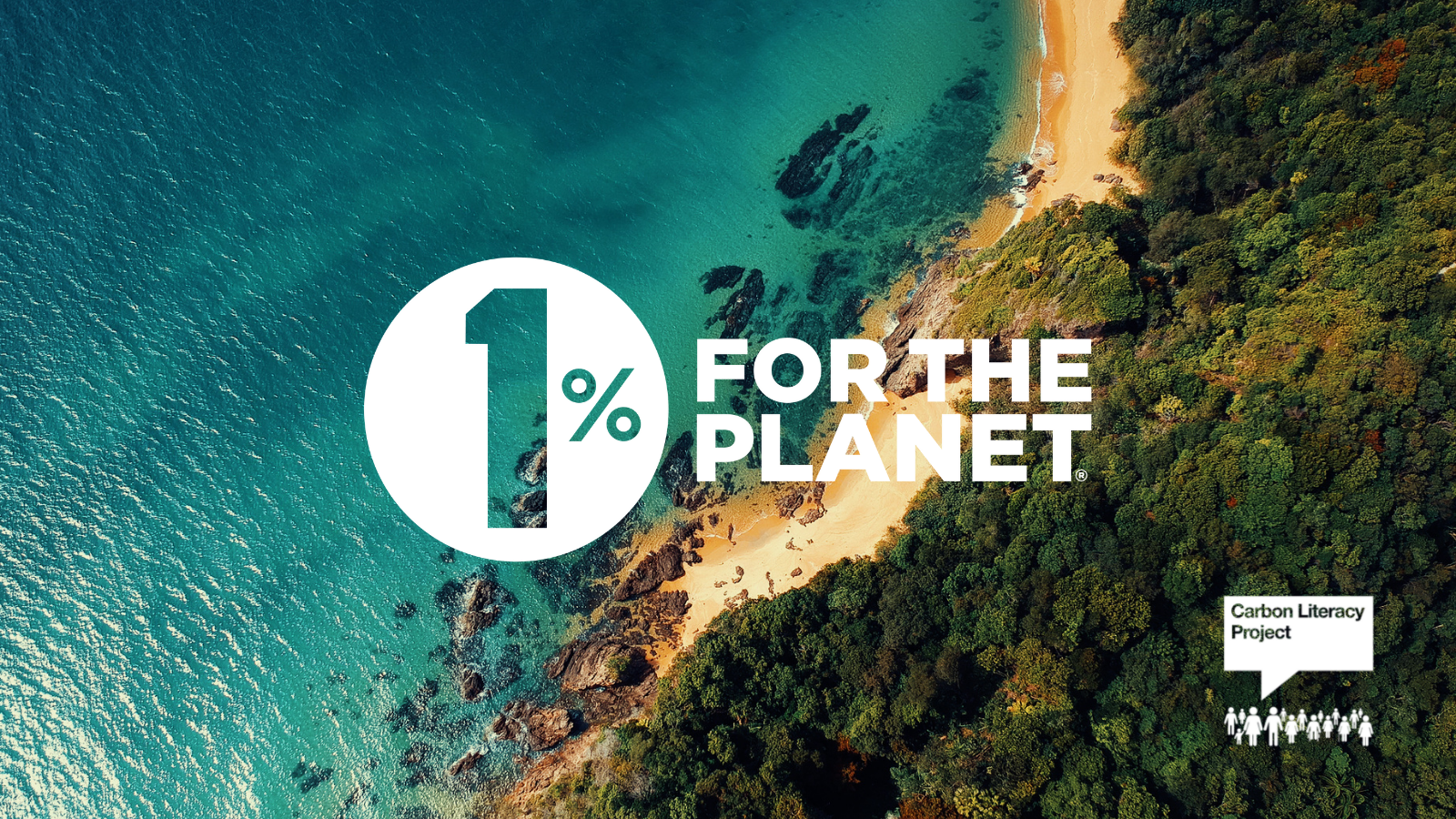 Throughout our 10th Anniversary year, we're sharing 10 stories for the 10 years of Carbon Literacy; one story for each year, shared once per month, in the 10 months leading up to the official anniversary date in October.
Story number six brings us to 2017 – the year when an exciting partnership took root with 1% For The Planet, a global movement on an important mission to accelerate environmental giving.
About 1% for the Planet
1% for the Planet was founded in 2002 by Yvon Chouinard, founder of Patagonia, alongside Craig Mathews, founder of Blue Ribbon Flies, who together, took the world by storm with their innovative new concept and method of accelerating growth for environmental causes.
Inspiring businesses and individuals all over the world to support environmental causes through giving, the global movement has created a reliable network of like-minded people and organisations, and allows donors to connect with non-profit organisations who are all working towards a common goal: protecting the future of our planet.
The idea behind 1% for the Planet is that businesses or individuals donate 1% of their annual sales (not profit) or salary to an environmental cause. Patagonia already having pledged 1% of sales to the preservation and restoration of the natural environment since 1985.
To date, 5,500 businesses from across 60 countries, and 1,000 individuals from across 50 countries, have committed to donating 1% of their annual sales or salary to 5,300 environmental causes across a span of 90 countries, from all around the world. The scale of 1% for the Planet is showcased through the breadth of causes drawn from across various environmental focuses, including climate, pollution, food, land-use, water and wildlife.
And one of these 5,300 causes represents us, The Carbon Literacy Project, and our mission to educate the world on climate change.
How We Became a Partner & What it Means to Us
Since 2016, The Carbon Literacy Trust has been a proud recipient of Patagonia's Environmental Grants. The generous funding from Patagonia, and amplification of our voice through Patagonia Action Works, has enabled us to expand our goal of creating a low-carbon culture and a better tomorrow, for everyone, everywhere.
In an act to reverse the decline of our environmental and planetary health, Patagonia donates time, services, and at least 1% of their sales to hundreds of grassroots environmental organisations, who just like us, are helping to reverse damaging effects on our environment. As a Patagonia grantee, becoming a non-profit partner with 1% for the Planet became the next natural move.
Being a non-profit partner with 1% for the Planet means that businesses and individuals can:
find and donate 1% of their annual sales or salary to us
have their donations certified and evidenced
enable us to continue our vital work in tackling climate change through climate education and action.
Our founding sponsor, Westford Mill, has supported us financially through 1% for the Planet. Managing Director, Roger McHugh says:
"We are delighted to have been instrumental in supporting The Project. Our sponsorship not only demonstrates our long-held commitment to promoting environmental issues but also provides us with a unique opportunity to be part of an initiative that has the potential to make a very real difference to the future of the planet.
"More widely, 1% for the Planet has given us the opportunity to offer support to a wide range of non-profit organisations, some of which we would not have known about without 1% for the Planet. Joining this initiative has held us to account on making the donations year in year out, and displaying the 1% FTP logo allows us to easily start sustainability conversations with our customers and demonstrates our commitment to environmental issues to them. Joining the growing number of businesses that support 1% FTP has allowed us to connect with like minded businesses in the UK to learn from and with."
Award-winning, Manchester-based marketing agency, Hattrick, also chose to sponsor Carbon Literacy in this way. Malin Cunningham, Managing Director at Hattrick, says:
"As a B2B content marketing agency, we know how complex the subjects of sustainability and climate change are, never mind communicating about them as well. So when we discovered The Carbon Literacy Project through our 1% for the Planet membership, it seemed like a perfect match.
"The Carbon Literacy Project gives us – a team of content creators – the tools to understand climate change better as well as the space to do something with our skills for the future of our planet. In short, we're helping a fantastic organisation make an even greater impact.
"As well as giving us a clear focus for our volunteering time and passion to 'give back', supporting The Carbon Literacy Project also keeps the team up-to-date with our own knowledge around climate change. It also means we can offer our clients best advice when it comes to communicating about their own journey and how to steer clear of greenwash."
How to Support Us Through 1%FTP
If you'd like to support The Carbon Literacy Project on our journey to creating a low carbon culture, and a better tomorrow, through the roll out of essential climate education, please consider becoming a member of 1% for the Planet and naming The Carbon Literacy Trust as a beneficiary, to donate 1% of your annual profit or salary. You can join as a business here, or as an individual here.
We are continuing to raise vital funds this 2022 – our 10th anniversary year – with the Carbon Literacy 10 for 10 Accelerator Fundraiser. This fund will help us accelerate the roll-out of Carbon Literacy for people, businesses, community groups, sectors and nations, everywhere, all across the globe.
Whether you are a business owner, a director, a head of department, an entrepreneur, or you simply have an influence within your organisation, choosing to support our 10 for 10 Accelerator through 1% for the Planet could help us make the world of a difference.
For more information, visit www.onepercentfortheplanet.org.