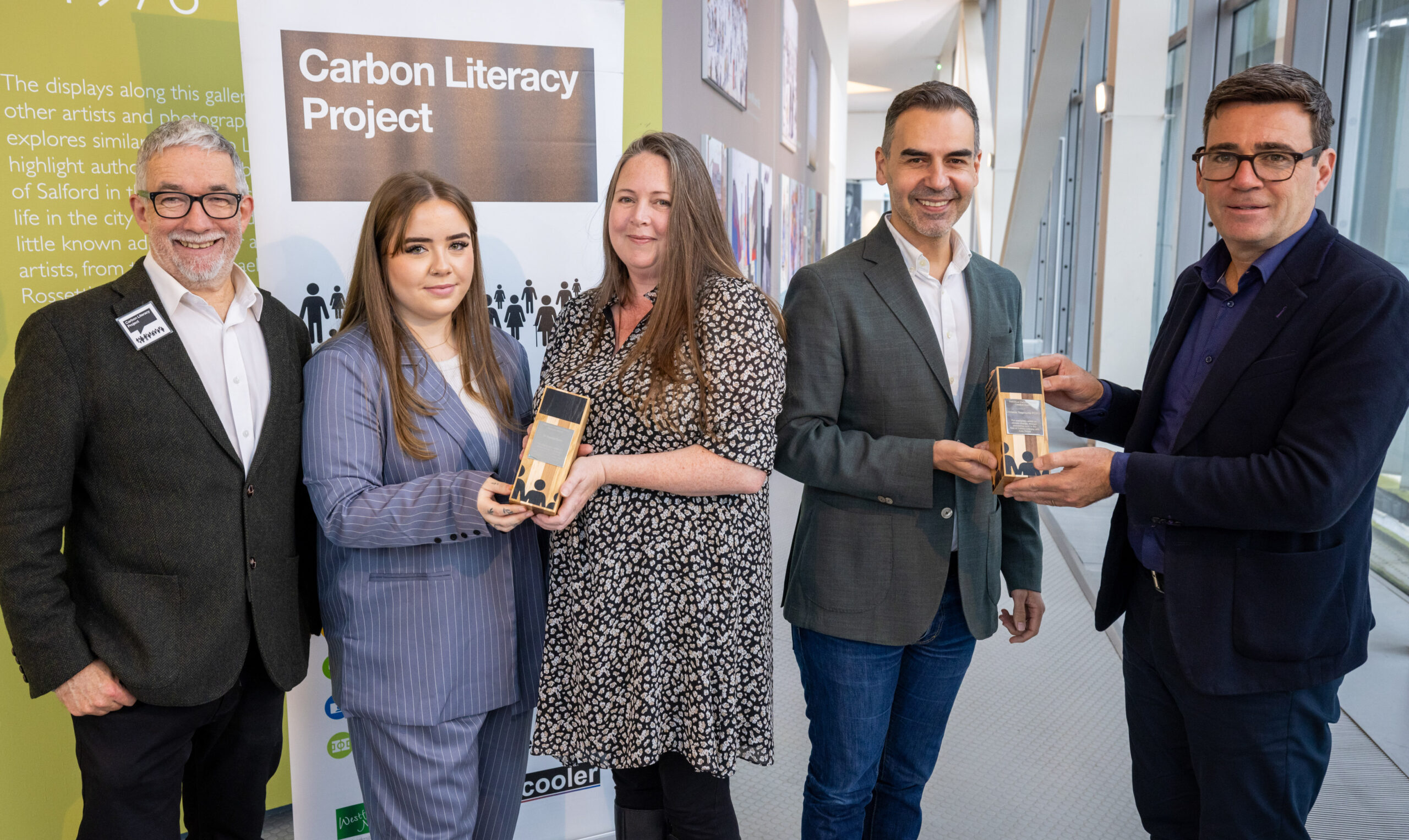 In a historic moment, Dr Rachel Dunk, Principal Lecturer at Manchester Metropolitan University, and Christos Tsaprounis, People & Culture Director at Auto Trader, were honoured with the inaugural Carbon Literacy Catalyst Individual Awards during the 2023 Greater Manchester Green Summit.
The brand-new Carbon Literacy Catalyst Individual Award recognises individuals who have demonstrated unwavering commitment and leadership in advancing Carbon Literacy and climate action – not only within their organisations but across their broader sectors and beyond.
The Winners!
Dr Rachel Dunk, Manchester Metropolitan University 
Dr Rachel Dunk, a distinguished academic and Carbon Literacy advocate, has made major strides in integrating Carbon Literacy into educational institutions and workplaces across the region and around the globe. Under her leadership, Carbon Literacy has been delivered to over 6500 staff and students from 109 educational institutions using the freely available, shareable Carbon Literacy Toolkit courses developed by Manchester Met for Universities & Colleges.
Sharing the vision of The Carbon Literacy Project, to embed this training as a core workplace competence, Rachel and her team have also helped to bring Carbon Literacy to a vast range of employers – from Manchester City Council to the British Antarctic Survey, who delivered training on the research vessel the 'Sir David Attenborough' in Antarctica.
Dr Rachel Dunk said: "It has been a privilege to lead the Carbon Literacy programme at Manchester Met, and a genuine pleasure to work with such passionate and committed colleagues and students. We've chosen to focus on building capacity not only at Manchester Met, but across the FHE sector and beyond, as we believe Carbon Literacy is a critical first step on the pathway to zero carbon. Our students were the first certified Carbon Literacy Trainers in the world, and it has been an inspiration to see them spread their wings and become the change they want to see in the world."
Watch our YouTube video to find out more about what makes Rachel award-worthy.
Christos Tsaprounis, Auto Trader
Christos Tsaprounis, Head of People & Culture at Auto Trader, has been crucial to the Carbon Literacy movement in the automotive sector and beyond. Auto Trader developed the first Carbon Literacy training programme for Automotive sector staff in 2019. Having witnessed its success in engaging their own employees in essential emissions reduction, Christos pioneered the development of a shareable training Toolkit for the sector. The Toolkit is available free to any employer in the automotive industry thanks to funding from Auto Trader and has already been used to train over 1500 automotive colleagues.
Christos' dedication to creating a more sustainable automotive industry has set a precedent for this and other high emissions sectors – Auto Trader is now supporting the development of a Carbon Literacy training Toolkit for the technology sector.
Christos Tsaprounis said: "The partnership between Carbon Literacy and Auto Trader is the result of two organisations coming together and making a real difference to an industry. I am so proud of everything our teams have achieved so far and even more committed to continue our work together."
Watch our YouTube video to find out more about what makes Christos award-worthy.
The Bigger Picture
Carbon Literacy training equips organisations, educational institutions, and communities across all seven continents to deliver necessary action at the scale required to address the climate emergency. Rachel Dunk and Christos Tsaprounis lead a growing global community of individuals driving catalytic low-carbon culture change through their professional networks.
Phil Korbel, Director of Advocacy at The Carbon Literacy Project, said: "The extraordinary growth of Carbon Literacy is propelled by its champions, so we are delighted to honour Rachel Dunk and Christos Tsaprounis with the first ever Carbon Literacy Catalyst Individual Awards. Their tireless efforts and dedication to catalysing Carbon Literacy as a core competence are simply inspirational and serve as a beacon for others to follow. We are proud to have them celebrated as part of our community of change-makers."
Inspired to become a Carbon Literacy Catalyst? Whether you're ready to ramp up your work with Carbon Literacy or you're just beginning your journey, we're here to support you. Get in touch to get the ball rolling.