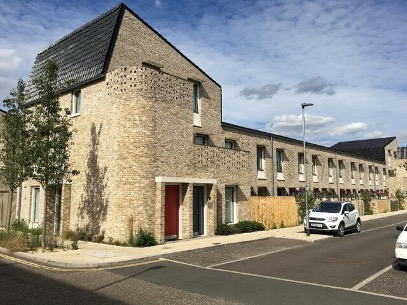 With the recent exciting, and long-anticipated launch of the Carbon Literacy Social Housing Toolkit, we'd like to take a closer look at the sector-specific impacts of climate change, the role of our new toolkit, and the wide reaching benefits that come with de-carbonising the social housing sector.
How does climate change affect social housing?
In the UK alone, there are approximately 4 million homes that are socially rented. That's 4 million homes that are susceptible to the increasing frequency of extreme events driven by climate change. Social housing is particularly vulnerable as the responsibility of work done to improve housing falls on landlords, who typically follow long-term plans spanning up to 30 years and are under financial constraints. This means the occupiers have little control over how well their homes are adapted to adverse weather.
What are the impacts of this? In February 2020 alone, 4000 UK homes were flooded due to three separate storms. Issues relating to extreme heat, such as subsidence, also put countless homes at risk of structural damage. This affects residents' livelihoods and drives up rent as landlords are forced to pay out more for repairs.
Why is a Social Housing toolkit needed?
The Carbon Literacy Social Housing Toolkit will undoubtedly increase the awareness of individuals and organisations within the sector – from knowledge on how climate change is impacting social housing, to how they can drive change to dramatically reduce emissions, both personally and as a cooperative!
Surveys show 61% of local authorities are yet to have a definition of what 'net-zero' looks like for their housing stock. The toolkit will address this, as it provides trainers and organisations with all of the necessary information and instructions to deliver Carbon Literacy training that is tailored to the Social Housing sector. This means nearly two-thirds of local authorities could be far closer to creating a net-zero housing stock via Carbon Literacy training.
It's immensely exciting to envision the change that could be enacted with a 100% Carbon Literate social housing sector. The aim of the toolkit is not only to inspire action, but to equip learners with an understanding of how to enact change. A drive to a low-carbon culture – across a sector that contributes to 10% of the UK's carbon footprint – will significantly decrease our national emissions.
What benefits are involved in de-carbonising this sector?
As it happens, the cost of running an inefficient home is far higher than a home that is. Less energy used to heat homes means fewer carbon emissions from the burning of fossil fuels, as well as less expensive bills – due to the lower energy demands! Therefore, it is in everybody's interest to create and retrofit homes that use (and even create) energy more efficiently.
In addition to emissions reduction, there are health and social benefits of living in housing which is warmer in winter, cooler in summer, and requires less maintenance – driving down repair costs for landlords and making for happier, healthier & securer communities.
Who is leading the way to 'net-zero' social housing?
It is within our capacity as a collective to completely decarbonise social housing, by generating renewable energy on-site – the result is completely net-zero social housing, a goal organisations such as Energiesprong and ZESTare aiming to reach via full insulation and 'energy pods' providing high-efficiency heating and renewable energy production to the retrofitted home. Housing associations invest in Energiesprong initiatives as they calculate the savings created through the retrofit as opposed to the tenants' outgoings on energy bills. ZEST work from the ground-up, informing Scottish Authorities as to what methods are most effective to meet their targets for decarbonising their social housing.
The Welsh government are also leading the way, having committed to erecting 20,000 low-carbon social homes across the nation by 2026, with a vision that renters will have a greater quality of life, whilst being greener. This is backed up by some other amazing work on Carbon Literacy and climate action across Wales, including the fantastic consortium of Welsh Housing providers – CL Cartefi Cymru.
These are just a fraction of the exciting projects that already exist, which inspire confidence in our ability to create positive change for the future. Together, with the launch of our Carbon Literacy for Social Housing Toolkit, we hope to see continued change, spurred on by a motivated sector, understanding their role in necessary change, and envisioning the pathway together.