2020 has been quite the year for everyone, including us. Similarly to much of the UK, we have of course dealt with the challenge of home-working, as well as the inability for trainers to run face-to-face Carbon Literacy training. However, with the hard work of our incredible team including our volunteers, Trustees and CL trainers, Carbon Literacy has adapted through the changes, and continued to thrive, reaching further and wider than ever before.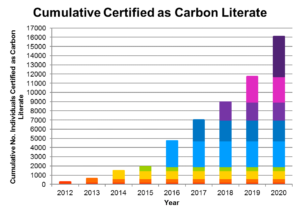 Almost 4500 learners have been certified this year, cumulatively more than any other year on record, meaning we'll be starting 2021 with over 16000 certified Carbon Literate individuals who are taking action and sharing knowledge about climate change with their colleagues, family and friends.
We've also welcomed 1 CL Trainer, 1 CL Training Organisation, and 7 CL Organisations to our accredited Carbon Literacy family.
Read on for a recap of some of our highlights from 2020, as well as key dates for 2021!
CL Pioneers & Distance Delivery Tools Workshop
On Wednesday 3rd of June, we held two virtual afternoon sessions – Carbon Literacy Pioneers Network meeting, followed closely by an interactive Distance Delivery Tools Workshop. This was our first CL Pioneers meeting run online, but found the available functions very useful in delivering to a remote audience, and led nicely into the second half, which was focused on how a range of tools can be used for distance delivered Carbon Literacy.
We sent out the notes via our CL Pioneers mailing list, but here they are again in case you missed them.
CL in Scotland & Wales 
As we've continued to work extensively within different nations and sectors, we wanted to be better able to display the projects taking place, and more easily signpost individuals to the information most relevant to them. As such, and due to the extensive work being carried out by our partner organisations, we've added specific webpages detailing the work being undertaken on Carbon Literacy in both Scotland and Wales.
Read more here
GM Green Summit 2020 – A CL Showcase
In September 2020, we were invited to be a part of the Greater Manchester Green Summit 2020. With the move to online learning and distance delivered training, we thought it a good opportunity to showcase the work that some of our partner organisations have done and provide a little insight into the different approaches to this new learning style that has been adopted by a variety of sectors. Contributors to the event included representatives from Auto Trader, BASF, Manchester Metropolitan University, Great Places Housing Group and Stockport Council.
Read more here
CL for Local Authorities Launch
Also in September, we were able to release the first of the public sector CL Toolkits, this one designed for local authorities staff, as part of an ongoing project funded by the Department for Business, Energy and Industrial Strategy (BEIS) via The Greater Manchester Combined Authority (GMCA). These CL course materials were tested and piloted with thirteen different local authorities across England and Wales, and are now available to all councils nationally, with more specific courses (detailed here) yet to come.
Read more here
CL for Universities & Colleges Launch
Under the same project, the first toolkit for the universities and colleges sector was released the following month, designed by Manchester Metropolitan University, and funded by BEIS, with a working group of higher education professionals across the UK contributing to and testing it. This CL Toolkit is now available across the country to any qualifying institution, the next to be released was designed by Nottingham Trent University, and will be launched early 2021.
Read more here
CLK E-Learning Update
Updating this three-hour module has been a huge task, but we are thrilled to confirm that the update has been completed, and is now live, ready for use. The original iteration was published in 2015, and, of course, a lot has happened in the intervening years – not least in the realms of climate, due to a mixture of action and inaction. During this process, we have worked to improve and update facts, impacts, effects, case studies and signposting to the most relevant further help and information, for your learners.
Read more here
16,000 Certified Learners
We are extremely pleased to have reached 16,000 learners certified as Carbon Literate! Through a particularly challenging year, we're delighted to hit this target just before the end of 2020, meaning that over 32,000 actions have been pledged in communities, businesses, local authorities, schools and universities, across the UK and beyond, helping work towards a zero-carbon future. We look forward to taking this momentum through to 2021 and helping ensure more people have access to Carbon Literacy training.
Read more here
Important dates for your diary:
26th Jan
Criteria Checker Workshop
2nd – 4th Feb
CL for Interested Organisations
26th Feb
CLO Application Deadline
Spring 2021 (tbc)
CLO Awards
We've all shown how quickly we can adapt through a really challenging year. The challenge now is to apply the same determination and flexibility to accelerating action and delivery on climate in 2021, and we greatly look forward to continuing to work with you this year.