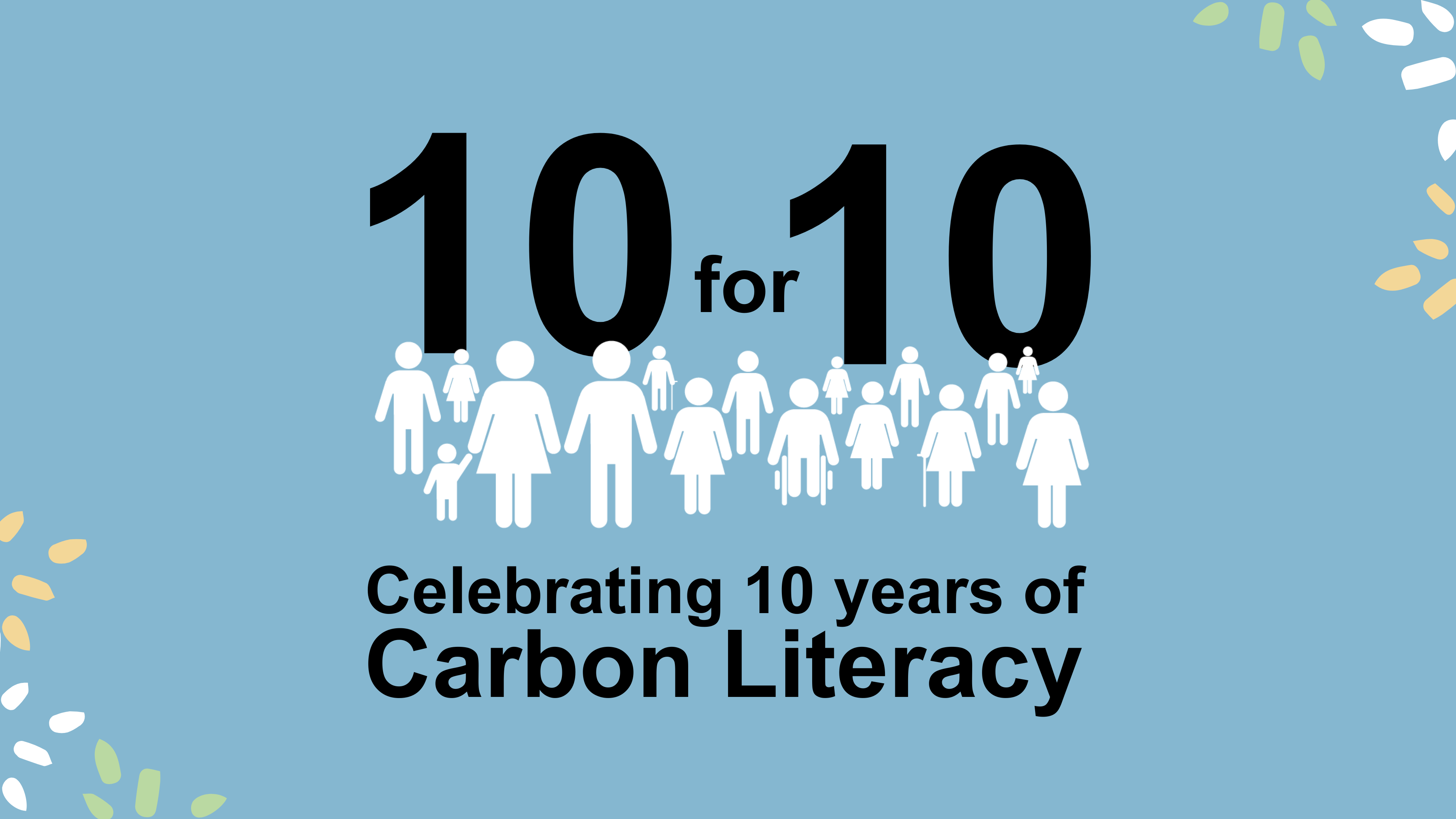 The Carbon Literacy 10 for 10 Accelerator – celebrating 10 years of The Carbon Literacy Project.
It's an exciting year for us here at The Carbon Literacy Project, as 2022 sees in our 10 year anniversary. We've come a long way since 2012 – in that time, a massive 25,000 of you have gained your Carbon Literacy certifications (at the time of writing), and we see no signs of this slowing down. In fact, the rate of take-up is growing at a jaw-dropping rate, seeing growth of over 50% last year. This is an unprecedented rate of growth for a small charity with no core funding, and we couldn't have gotten to where we are now without you all.
That being said, it's also simply not good enough. We all know that the science demands much more of us, and further, faster action in the race against climate change. We also know, as we saw at COP26, that we can no longer wait for governments to lead us, it's down to us, the communities and grassroots to pave the way.  That being said, we can only work with, and expand into, new sectors at the rate at which we are funded, despite having aspirations, and knowing we can support, much greater capacity and roll-out – if only we had the financial backing to do so…
For our 10 year anniversary, we're launching the Carbon Literacy 10 for 10 Accelerator. A fund that will enable us to grow as an organisation, to accelerate delivery of Carbon Literacy at a scale far greater than we could through natural growth, and with the impact to turn the tide on climate change. This fund is not to 'keep us going', nor is it for the 'same old' – it's a launch-pad to far greater action on climate change.
We thought what better way to commemorate our 10th year than by raising £250,000! Both a significant yet achievable figure, it equates to just £10 per certified learner (25,000) – the same cost as your certificate.
This is where you – our community of Carbon Literate individuals and organisations – come in!
The easiest way to help is to directly donate to the campaign. Even if you've not yet gained your Carbon Literacy certificate, please choose to support our campaign anyway! Whilst we recognise that giving this much yourself may not be within the means of some, we're aware that others may have the capacity to raise, or wish to donate, more; which would be greatly appreciated in helping us achieve our goal.
Rather than choosing to throw in a tenner or more directly (which we are certainly not discouraging and would gladly welcome), if you're looking for more creative ways to help raise money for the campaign, you could bake, run, ride, host a gig or find ways to get others involved!
But what does 10 for 10 mean to you? Depending on your position there could be different ways to get involved and get creative with the number 10!
One individual has already pledged £70! The equivalent of £10 per year they've been certified as Carbon Literate (since 2017).
One organisation has already pledged to donate £5000! The equivalent of £10 per learner they're training across 2022.
We'll share more ideas over the coming weeks and months to get you started, as well as stories from individuals and organisations that have already donated, to share their personal 10 for 10 and provide further inspiration.
Can you help us to achieve our goal?
Find out more and donate here
Thank you!